Are you researching or planning your first African Hunting Safari? We offer cost-beneficial All-Inclusive Africa Hunting Safari Packages. This website contains detailed information on planning your first hunting safari in South Africa.
We practice Fair Chase Hunting in a Free Range Environment with 30 species of trophy plains game. Nick Bowker is an African Safari Outfitter offering a tailored, personalized hunting experience.
Double Tap to watch the YouTube Video on Mobile.
Table of Contents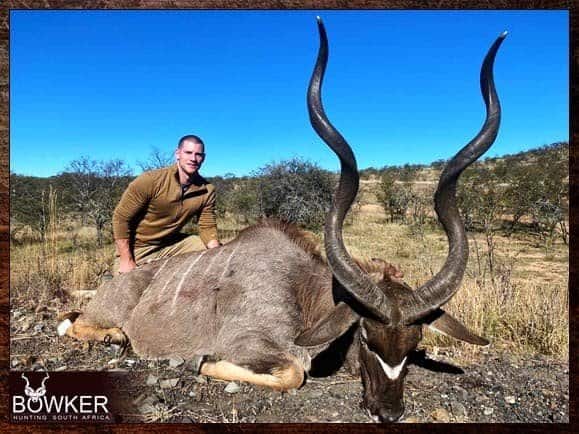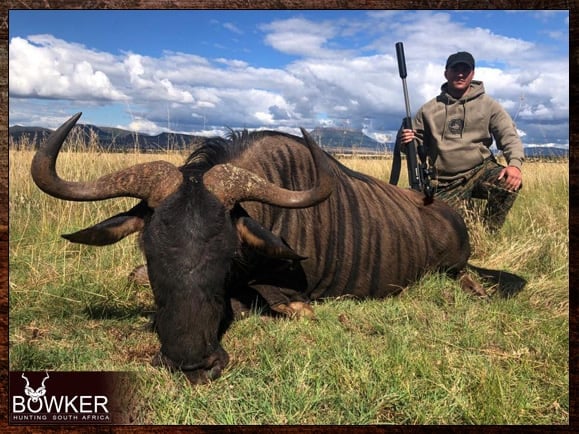 South Africa has become the premier hunting destination in Africa and offers first-world hospitality and infrastructure. Nowhere else can such diversity and availability of animals for hunting safaris be found at a reasonable cost.
Getting to South Africa is easy, and visitors from the United States or European Union do not require a visa. Read our detailed planning and information guide for the first-time African hunter.
Hunting in Southern Africa is conducted "Safari Style," where hunters drive around searching for plains game. When sighted, hunters stalk on foot. Alternatively, hunting is from an elevated vantage point, and a trophy is spotted in the thick brush and then stalked. Bow Hunting is from a hide overlooking a waterhole or feeding point.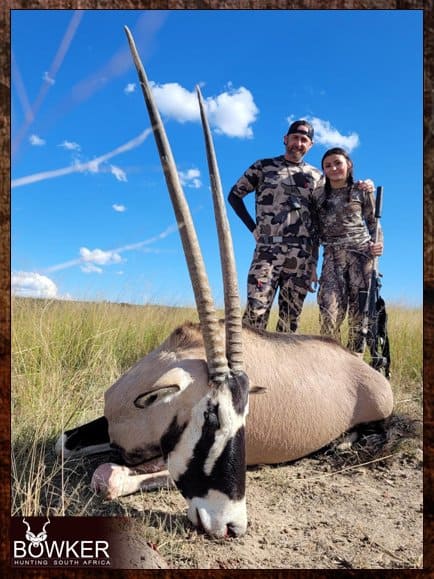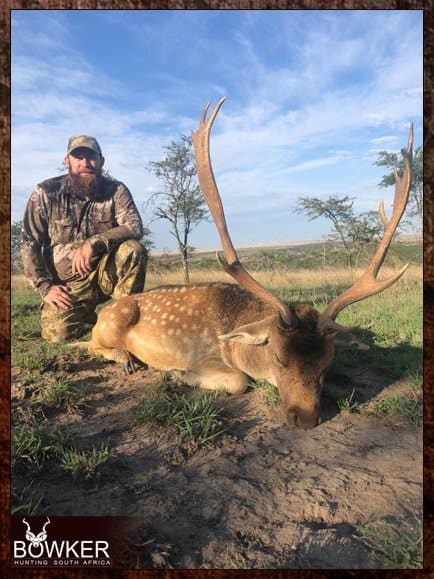 Our ALL Inclusive Hunting Packages. Seven trophies. Eight days of Hunting.
Kudu and Gemsbok African Hunting Packages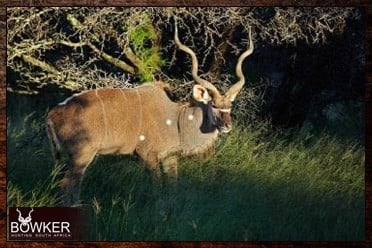 1 Hunter $6000
Kudu
Gemsbok
Blesbok
Impala
Springbok
Warthog
Mountain Reedbuck
Sable Antelope Big Game Hunting Package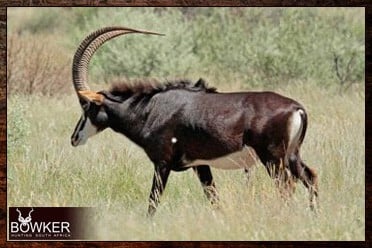 1 Hunter $9000
Sable
Kudu
Waterbuck
Nyala
Gemsbok
Black wildebeest
Zebra
Cape Buffalo Big Game Hunting Package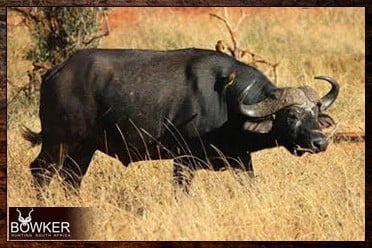 $18000 per Hunter
Cape Buffalo
Red Lechwe
Nyala
Waterbuck
Bushbuck
Gemsbok
Black Wildebeest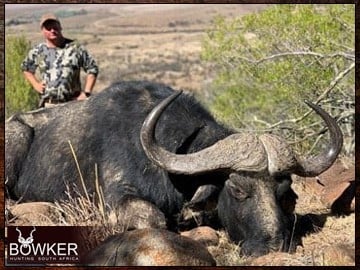 Hopewell Lodge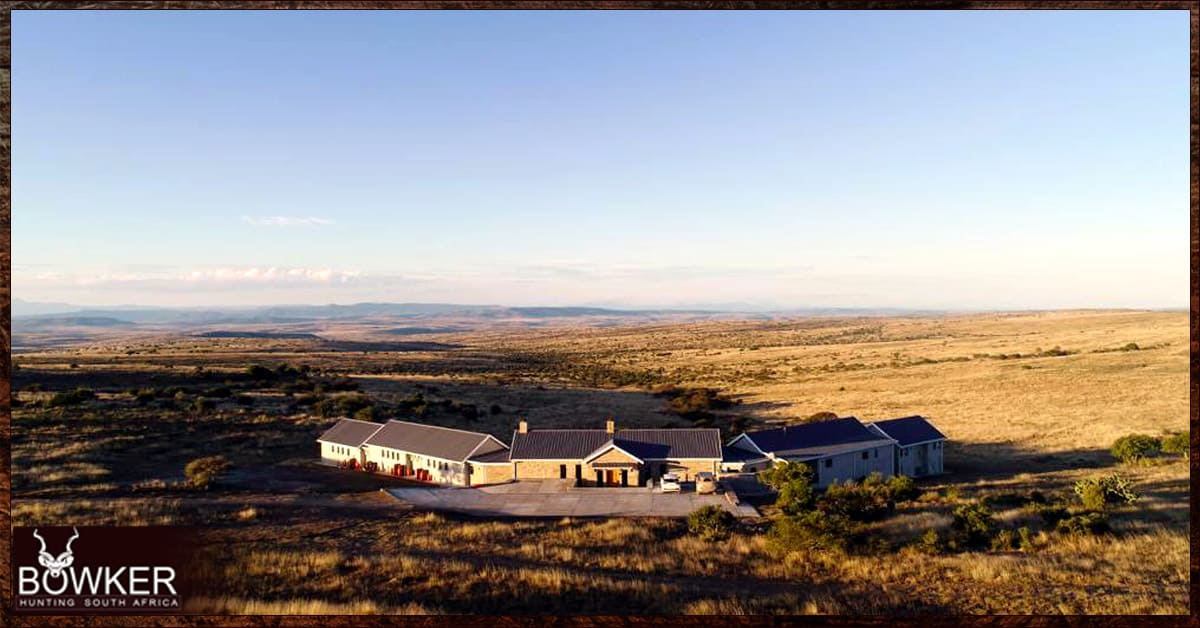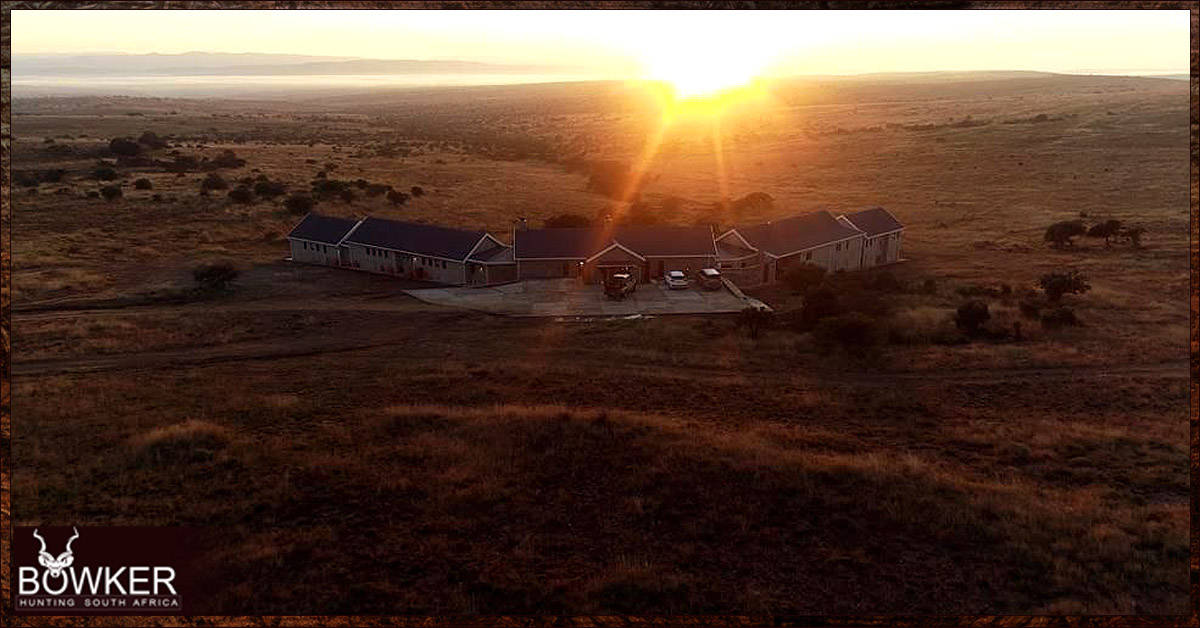 We are proud to announce the opening of our new lodge Hopewell. Nestled at the top of a valley the lodge has breathtaking views of the surrounding bush veld and savanna with the Kagga and Winterberg mountain ranges in the background. Our luxurious hunting lodge is of the highest standards with a splendid charm and charismatic ambiance.
Our core Plains Game Animal Hunting list includes the following species: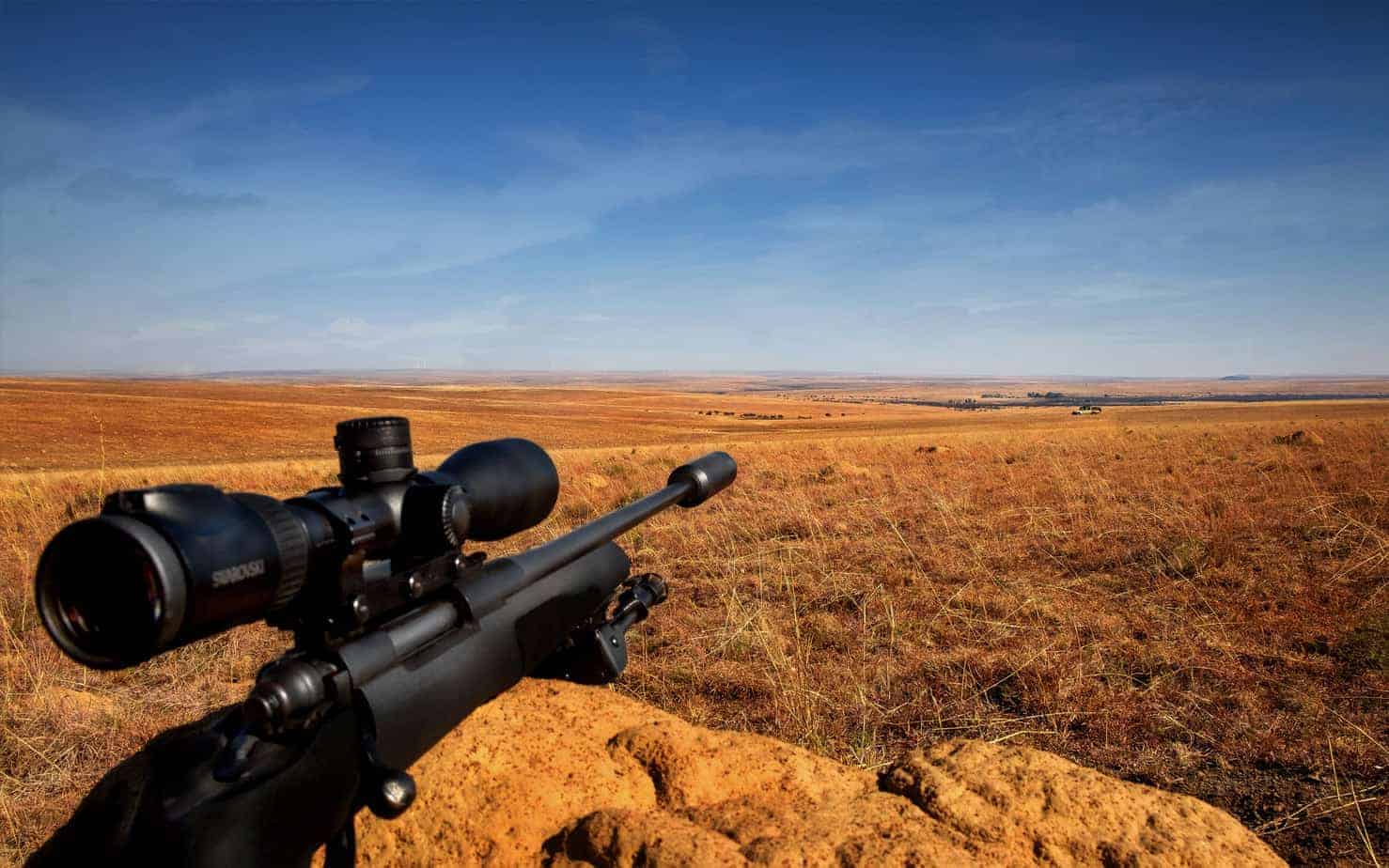 We practice Fair Chase and Free Range African hunting. Complete your Life Time dream of a Hunting Safari in Africa.
Nick Bowker Hunting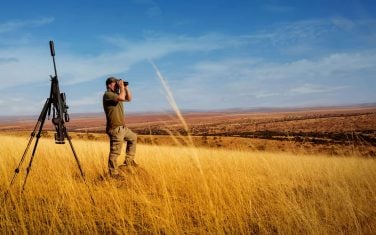 I am a small personalized African Outfitter in the Eastern Cape – Bedford, South Africa.
Bedford is one of the safest areas to hunt in Africa.
I have been a Guide and Outfitter for 25 years.
I will be present for your entire safari.
Your safari package includes trophy fees.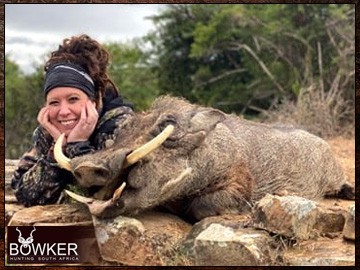 Hunting Concessions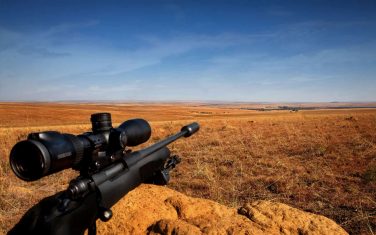 Your African hunting safari will be a fair chase in free-range low fenced hunting areas.
The hunting lodge sits on an escarpment and has four unique biospheres.
This unique change in biospheres results in a considerable animal diversity with 30 species of trophy-quality game.
We have a number of owned hunting properties.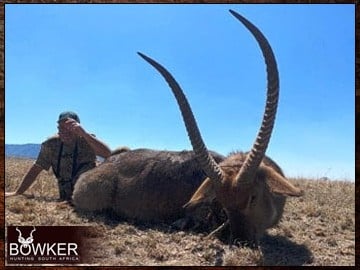 South Africa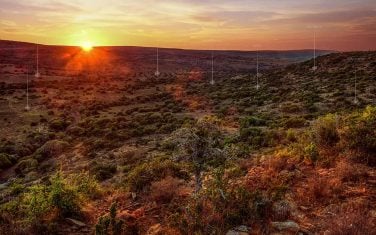 South Africa has become the premier country in the world for African hunting safaris.
Offers first-world hospitality and infrastructure.
An African hunting safari visit can be combined with a national park trip to see the "Big Five."
Game hunting is conducted in a malaria-free area in the Bedford region in the Eastern Cape – South Africa.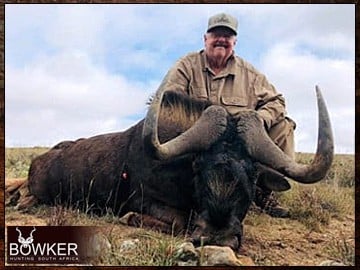 Hunting with shooting sticks is a must on the African continent.
Cape Buffalo Packages
Nick Bowker has a dangerous game license and offers a wide selection of packages for your African hunting safari.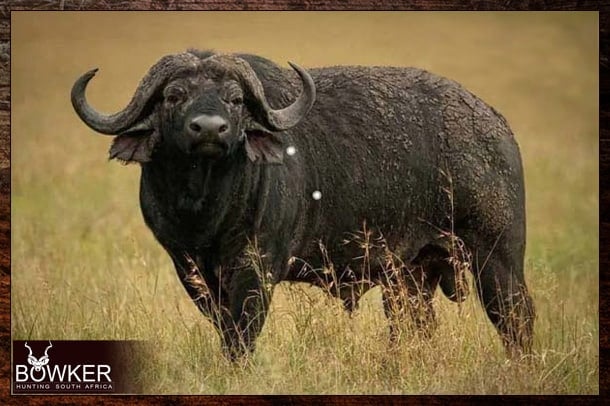 Selecting your Outfitter
"Are you considering an african hunting safari for Plains Game, are you overwhelmed and don't know how to choose an African Outfitter?"
"Here is a list of questions to ask a safari outfitter to help make your choice for an adventure to the African continet"
Taxidermy while Hunting with Nick Bowker
Nick Bowker hunting will ensure that your Taxidermy is of high quality. We follow up on delivery and ensure that your trophies are delivered safely after your safari. See our taxidermy information and prices.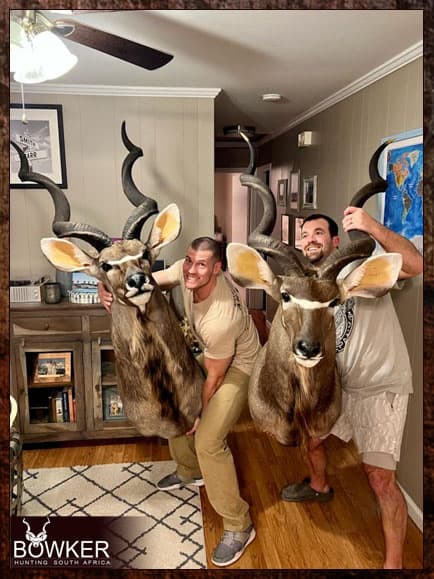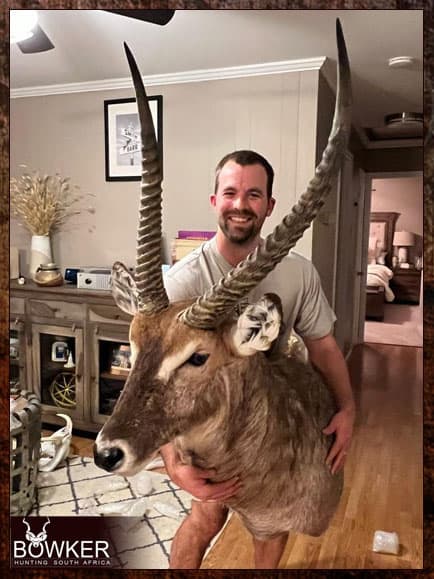 Bow Hunting with Nick Bowker
We are primarily rifle-hunting outfitters. You are welcome to bring a bow and try for a few animals. However, the majority of the trophies will be shot with a rifle.
We do not put out food, control waterholes, and have no blinds. In addition, we are low-fenced, and the game is free-ranging. We are a 100 percent fair chase and bow hunters will be doing a real spot and stalk safari.
This hunting adventure is not for the novice bow hunter as it is highly challenging and game hunting requires longer shots. Traveling with a bow does not require any documentation or permits. Check it in as you would with golf clubs.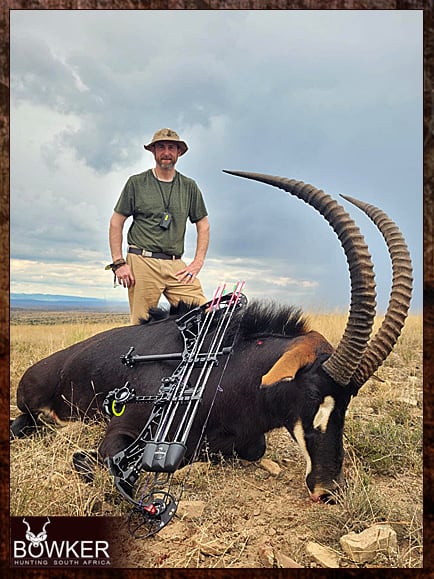 Blogs on hunting Safaris that have been written by my clients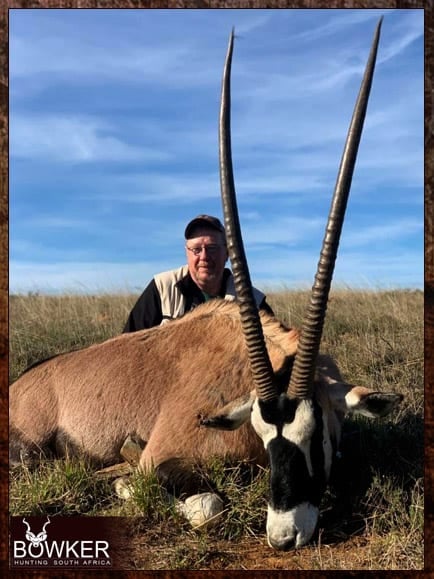 Management and Trophy Adventure
May 2022
"Back from superb African safari management and trophy trip with Nick Bowker. The start was 2019 when Nick posted a 20 animal cull hunt. My buddy and I booked for March 2020. Well, we all know what happened, so we went for 2021.

Thanks to our Prime Monster, travel was too risky. Now, in 2022 we finally put it together. My self, Great Nephew and buddy arrived on the 25th of May in Port Elizabeth, where Nick was waiting for us, and off to Bedford we went for our game hunting safari".
Review of Nick Bowker Hunting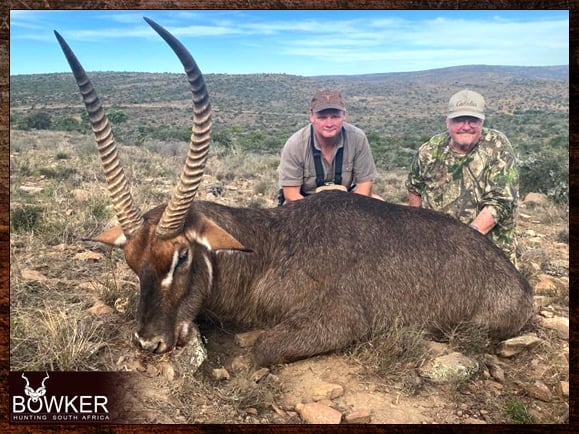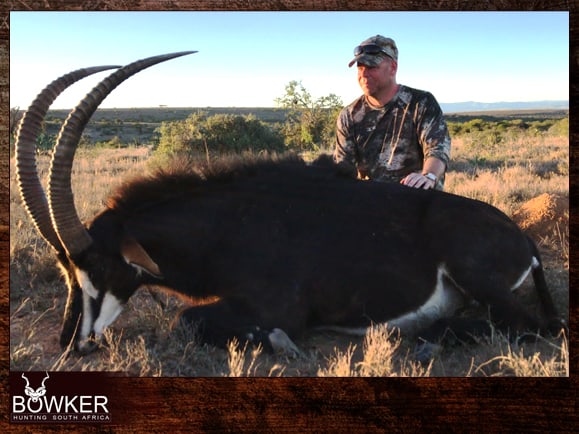 April 2021
"It took me nearly 68 years to determine hunting safaris are availble in Africa. And it didn't require being a millionaire to make it happen. I took eight trophies and was treated like a king.

All this for less than a guided Montana Elk Hunt. a far lower percentage of taking just one trophy class bull. Don't get me wrong. I will never stop chasing the great Wapiti in my home state. I have 400+ bulls hanging on my wall; however, South Africa is the answer when it all comes down to hunting safaris and game hunting".
Low Fenced Rifle Hunting
March 2020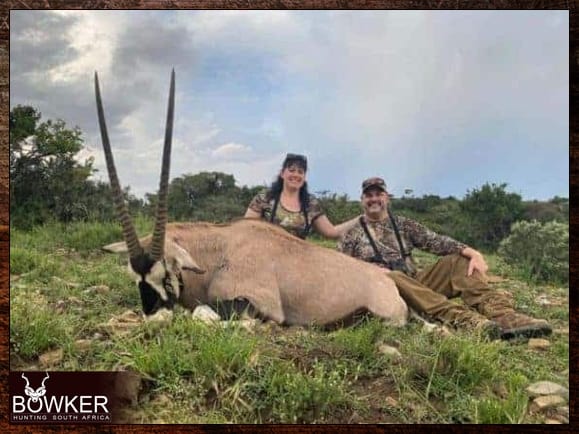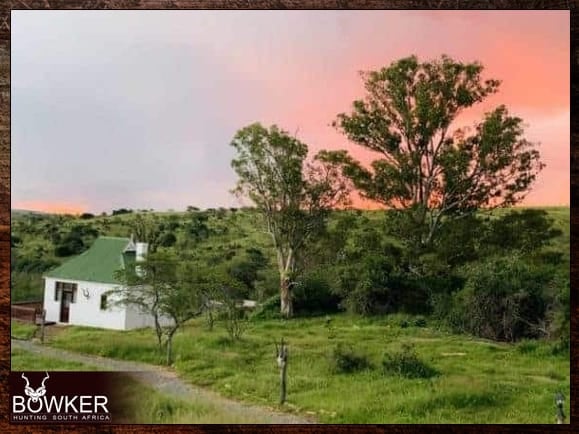 "Hunting safaris with no fences or low fenced African hunting (meant to control sheep, not the wild game) are a priority. Nick's hunting areas fitted the bill for our hunting party. The plains herd numbers and variety of game blew us away."
Cull Hunt
November 2019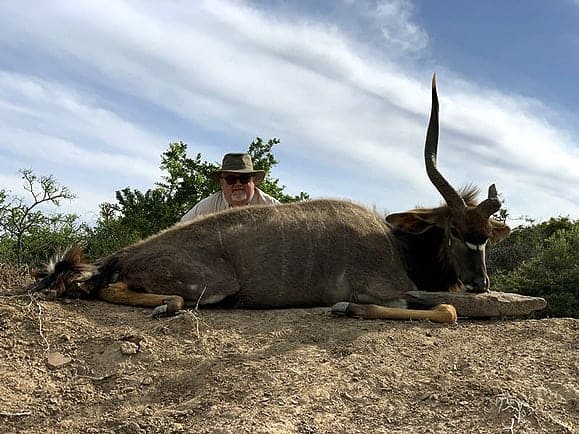 "I saw a posting on another website for an African cull safari package for twenty animals. The package included five trophies and fifteen culls.

The animals in the package were Impala, Blesbok, Mountain Reedbuck, and warthogs. I did not care about the trophies.

I didn't know what to expect of a cull hunt. Once I saw on TV where someone had a portable shooting bench, and the TV made it look like a shoot and stack them up.

I got the impression that it was a "lesser" form of hunting. It turned out to be the same as trophy hunting. The difference being a multiple of tags, and your "trophy" has different characteristics."
My first Plains Game Adventure
October 2019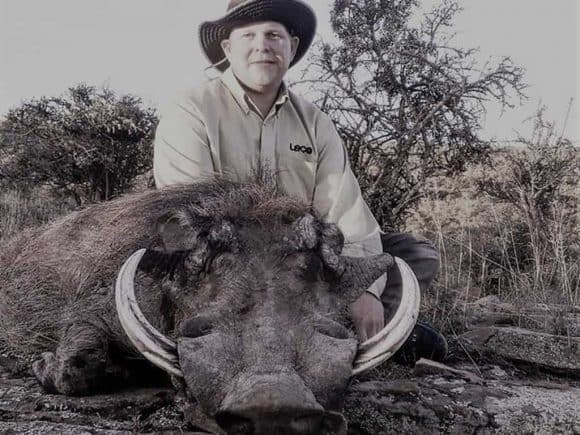 "An African Hunting Safari, the stories of vast lands, and a variety of game animals. In 2019 my friends invited me on a trip to South Africa.

A trip I am glad to have been part of. Nick Bowker runs a quality operation, laid back, easy-going, friendly accommodation, and great food.

From Day 1, it was "Hakuna Matata." Morning coffee, to scanning the ever-changing landscape for trophies to be had.

A grand brunch, a good nap, great company, back to view the countryside for more trophy animals.

To top it off with stories and tall tales of the daily adventures, wine and dine and start all over the next day."
Plains Game
October 2019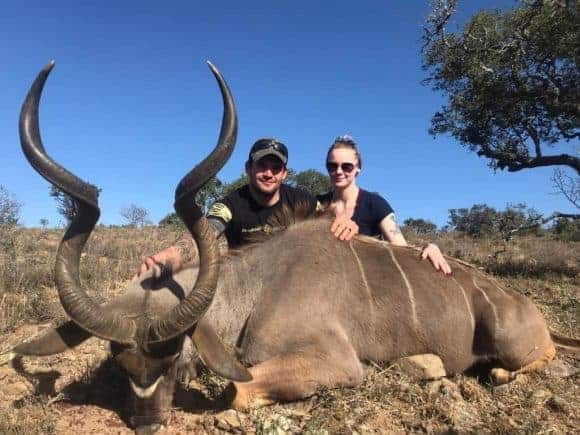 "Growing up, I was an avid reader. "Green Hills of Africa" by Ernest Hemingway and "African Game Trails" by Theodore Roosevelt were always favorites.

I had a deep passion for hunting from an early age. Hunting the dark continent has always been a dream.

This last fall, I had the opportunity to finally make that dream a reality and booked a hunting safari with Nick Bowker.

I chose to hunt with Nick because he runs a low-fence, free-range operation.

The second reason was that his safaris costs are unbeatable."
First Time Safari
October 2019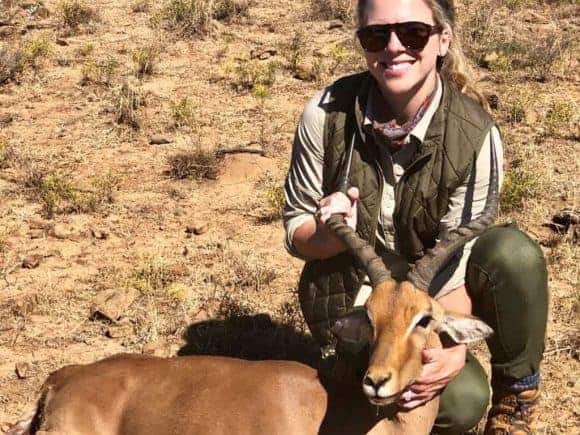 "My wife and I decided to take our honeymoon to South Africa for 2 weeks.

We got the opportunity to stumble across Nick's website while planning, and he was one of the few Professional Hunters that offered single day game hunting.

Outside of the other great hunting safari packages that he has advertised.

Nick and his brother greeted us at the airport and took the short 2-hour drive to his family farm.

While I was after Kudu, my wife had never shot anything outside of two rounds at a target more than a decade ago."
Armando back from Italy
October 2019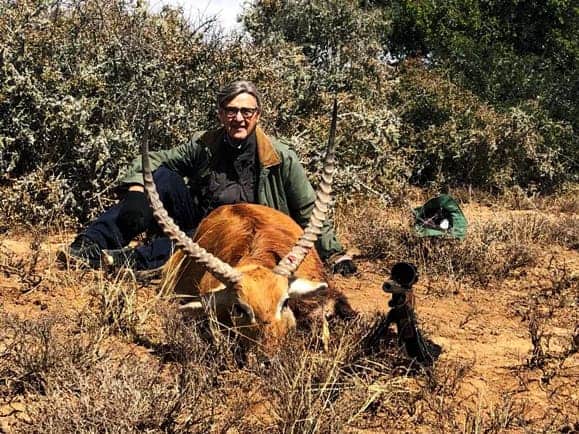 "Armando was back with his wife Roberta for their fifth game hunting safari.

Previously Armando had made hunting trips to Namibia, the Limpopo bushveld region, and the Eastern Cape.

Armando was looking for high-quality Lechwe, Nyala, Waterbuck, and Bushbuck trophies in a free-range environment.

I was on hand to meet Armando and Roberta in Port Elizabeth after their long trip from Italy and drive them back to the lodge."
The Czechs arrive
August 2019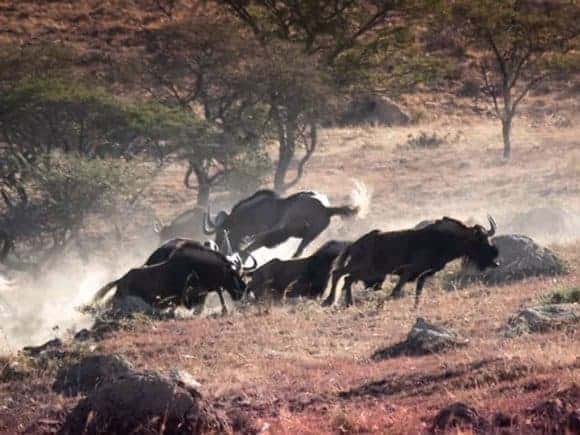 "Rob Bowker collected us from the Port Elizabeth.

I was returning for a 2nd game hunting Safari with Nick Bowker.

After having an excellent previous experience with Nick, I was keen for our next adventure and some new species.

I was keen to bring my friend Andre for some free-range hunting in Africa.

Nick is an Outfitter with more than 25 years of professional experience and had offered a 7 animal trophy package and fantastic safaris."
Our Hunting trip with Nick Bowker
April 2019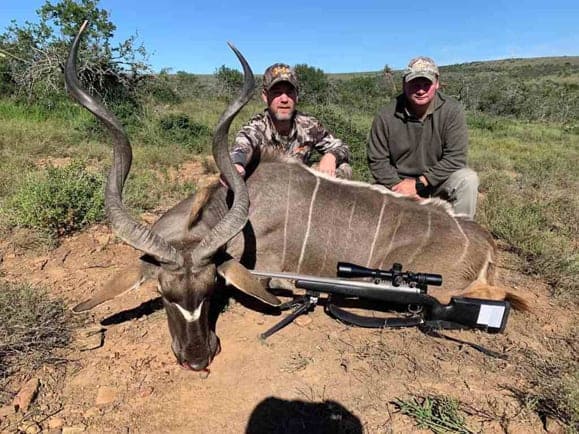 "It was 7 years since our last hunting trip to the Eastern Cape South Africa with Nick Bowker Hunting.

I was with my buddy for our second trip with Nick. We wanted to go after some different species this time.

We also wanted to hunt a few of the same animals as our first time in South Africa. On the last trip, we had had fantastic plains hunting.

In 2012, both of us took a Mountain Reedbuck, Impala, and Blesbok.

Nick has very appealing 8-day seven animal hunting package trips available for Plains Game." Hunters can Email Nick for more info.
My Hunt with Nick Bowker
May 2018
"While touring their quaint log home, Thomas showed us his African trophies.

You know one thing leads to another, and a year later, Thomas and I are on an airplane to Africa. Wild!

My first hunt in another country.

Our host, Nick Bowker, and his brother Rob, rugged 5th generation South African "farmers" of English descent, were most gracious and met us at the "Oliver Tambo" in Port Elizabeth in the Eastern Cape.

Guns, ammo, luggage all right there and a great relief after nearly 24 hours of flight from Minneapolis, Houston, Atlanta, Johannesburg, and Port Elizabeth."
How is hunting in Africa conducted?
Hunting in Africa is conducted "Safari Style," where hunters drive around searching for plains game. When sighted, hunters stalk on foot.
Alternatively, hunting is from an elevated vantage point, and game is spotted in the thick brush and then stalked. Hunting with a Bow is conducted from hides overlooking watering points.