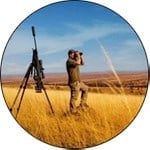 Summary
White Blesbok hunting is the perfect trophy for the first-time hunter in Africa.
Shooting distances are longer on the open plains for blesbok game hunters. Blesbok hunts take place on the open plains in South Africa.
Once near extinction, this game antelope has been reintroduced. South Africa's game farms boast a population in the hundreds of thousands.
There are no seasonal restrictions on trophy hunting blesbok in Eastern Cape, South Africa.
Nick Bowker Hunting offers white Blesbok trophy game hunts year-round.
Join us for a blesbok hunting safari at Hopewell Hunt Lodge. Blesbok hunting is included in many of our safaris packages—Hunt Africa with Nick Bowker.
Free-range bow hunting for Blesbuck in South Africa is difficult.
Hunting in Africa is a wonderful adventure and a lifelong memory.
Hunting White Blesbok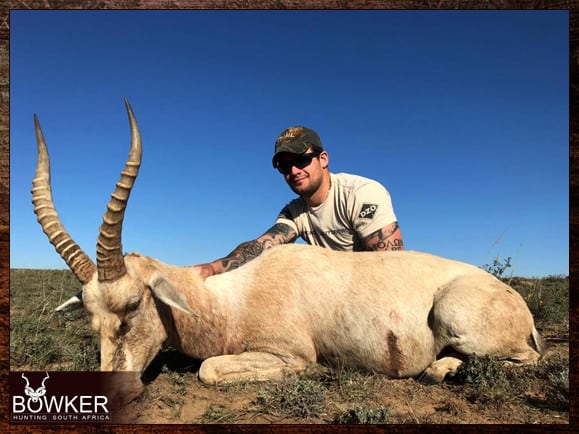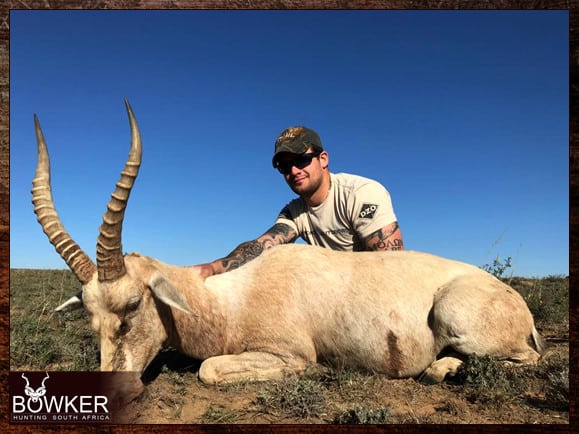 Hunt White Blesbuck
The white Blesbok game is a color variant of the common Blesbok, not a subspecies such as the common reedbuck.
It's a great trophy to hunt while on safari. This is a must for any collector interested in the Blesbok color variations.
Although the white gene has proved recessive, significant numbers of white Blesbok have been bred throughout Africa.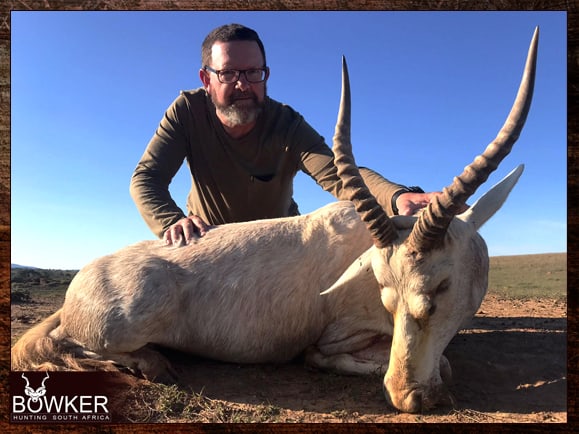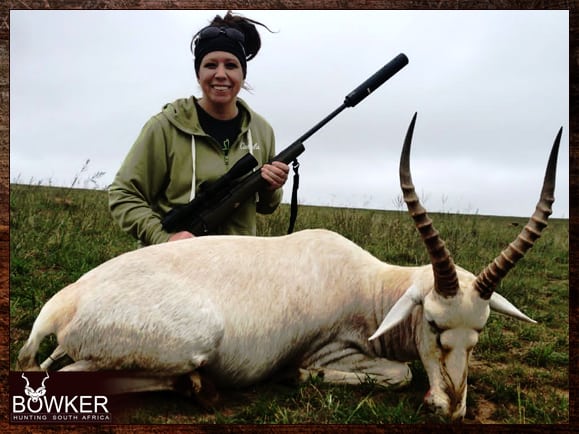 White Blesbuck Hunting
The price difference between a common blesbok and a white blesbok is relatively small.
Many hunters shoot the white Blesbok rather than the common Blesbok as their first Blesbok trophy in South Africa.
The method of hunting Blesbok is similar to pursuing a normal Blesbok.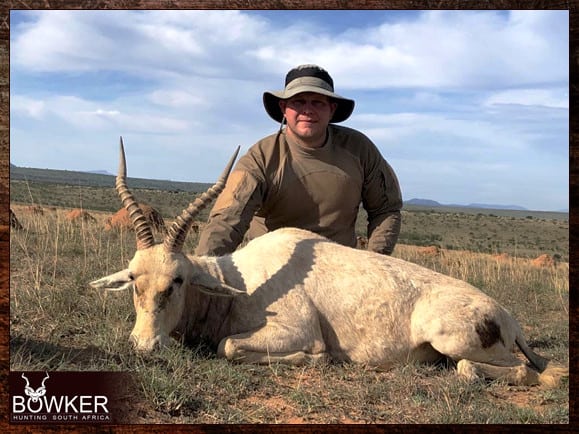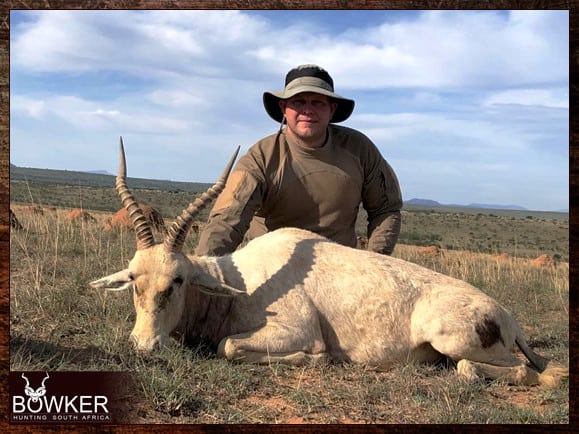 White Blesbok Hunts
We offer competitive game hunt packages for rifle hunting in South Africa.
White blesbok shooting takes place on our ranch in South Africa. Game hunting takes the form of walk and stalk methods.
Blesbok is plentiful and free-ranging, and outfitters offer cheap hunting prices for the hunter.
Consider shooting a white Blesbok as an add-on to one of our hunting packages on your Africa hunt.
A rifle is included free of charge, together with ammunition, as part of our hunting day fees for hunting white blesbok.
Hunters can visit our contact pages for detailed booking and game hunting information.
White Blesbok Hunting Trophy Fees in South Africa
How much does it cost to hunt a White Blesbok?
The trophy fee as a standalone White Blesbok hunt is between $600 – $900. Daily rates vary between $250 and $500 per day.