Please get in touch with me for additional references and client recommendations.
Table of Contents
YouTube Reviews
Facebook Reviews
Jim Hayes recommends Nick Bowker Hunting.
I have hunted with Nick twice; this summer will be the third time. I have also hunted with five other operators in Africa.

First off, the accommodations are excellent. Each room had its bathroom—plenty of hot water and water pressure. The meals are excellent. I can not remember eating so much great meat. Camaraderie is excellent. If you need something or have a recommendation that has been acted on to get things done to make your stay more enjoyable

Nick and his staff are friendly, professional, and very knowledgeable. Nick and his staff will go at your speed. It's your hunt. If you want to walk a lot or a little, it is up to you. Regardless you will get your animals. A lot of freedom and relaxation. A great selection of animals for the trophy hunter.

My First hunt report: Accurateloading

My Second hunt report: Accurateloading

Facebook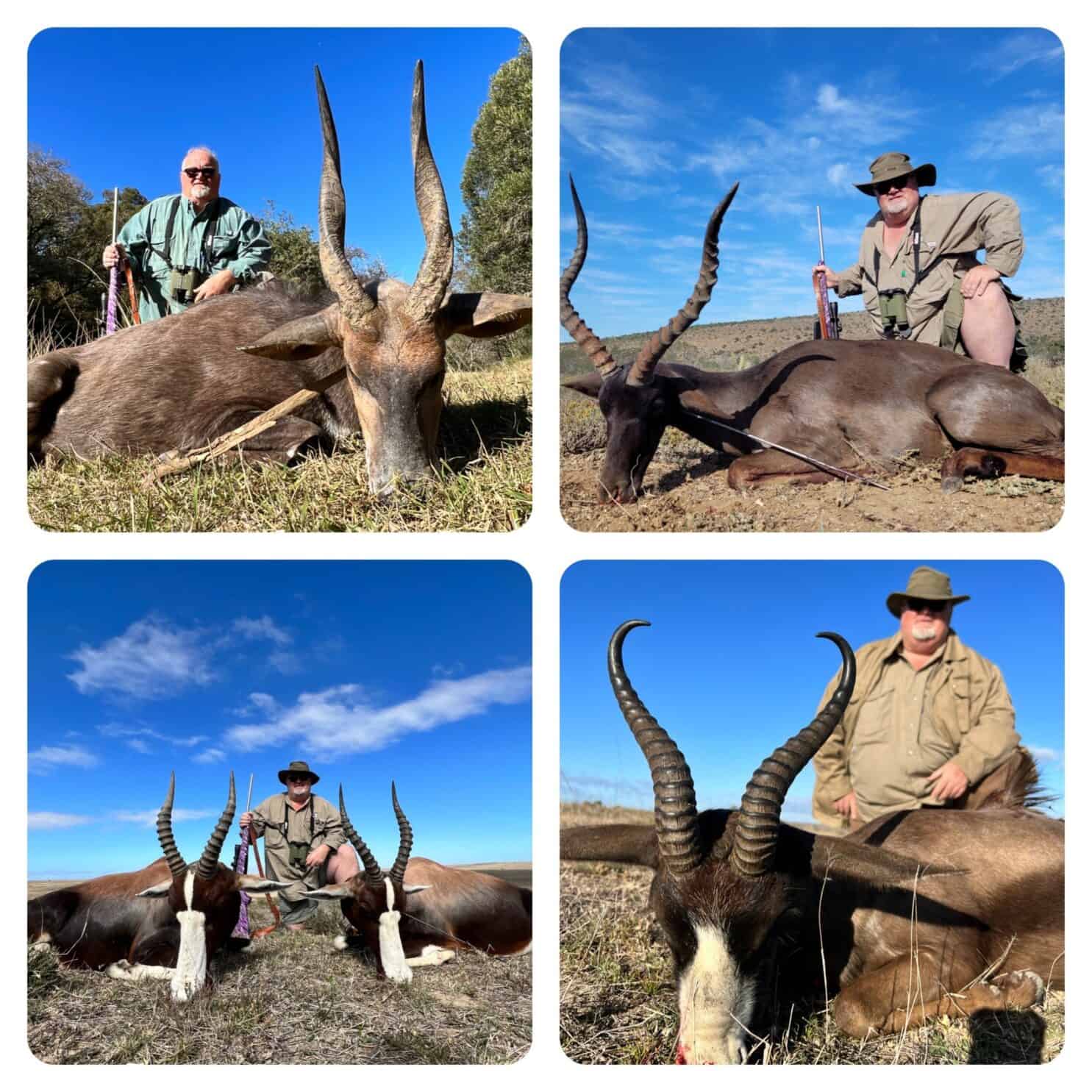 Damon Swenson recommends Nick Bowker Hunting.
A friend and I spent many hours searching the Internet for just the right outfitter to hunt South Africa with. When we came across Nick Bowker, we both agreed that we had a found what we were looking for.

He offered free range hunting, multiple different habitats, fantastic variation of terrain, and lots of opportunities on the animals that we were after. The accommodations and meals were first rate, and we would both not hesitate at all to hunt with Nick again.

If you are thinking about hunting with Nick Bowker, please be assured that he will accommodate and exceed your expectations. I have absolutely no reservations about recommending him! If anyone has specific questions, please feel free to reach out to me on Facebook messenger, I am happy to help in anyway that I can

Facebook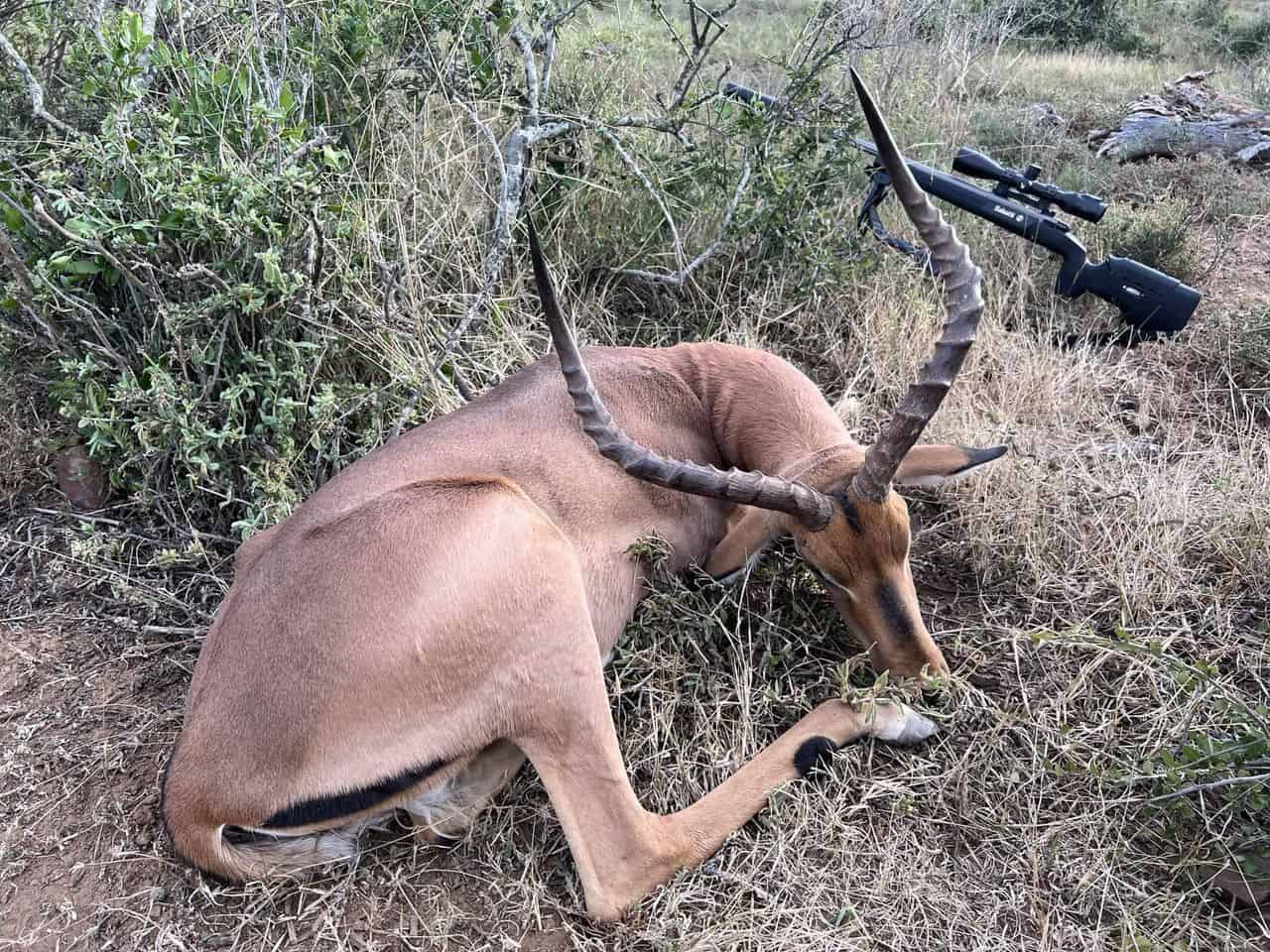 Adam C Aragon recommends Nick Bowker Hunting.
I can tell you first hand the time and effort anyone puts into finding the right outfitter for an Africa safari adventure. I personally put in about 70+ hours of research, talked and messaged countless but no one came close to what Nick Bowker was able to offer. So Im writing this review to help anyone that was in my shoes years ago. Nicks expertise in identifying a well mature bull will amaze you and his technique in stalking these animals are commendable.

Nick is well educated in what you want to hunt the terrain you will be in and the habitat they utilize, Nick practices great wildlife conservation. I promise you will see several shooters but he will hold out for that perfect trophy that you are after. I have recommended Nick to several people now and have meet great people the last time I was there whom I still keep in good contact with still.

I understand anyone can write a one time review but I have hunted with Nick on two separate occasions now and in the planning process of my 3rd hunting trip.

I Highly recommend Nick for your Africa adventure what ever it my be and if you have any questions ask Nick for my contact information.

Facebook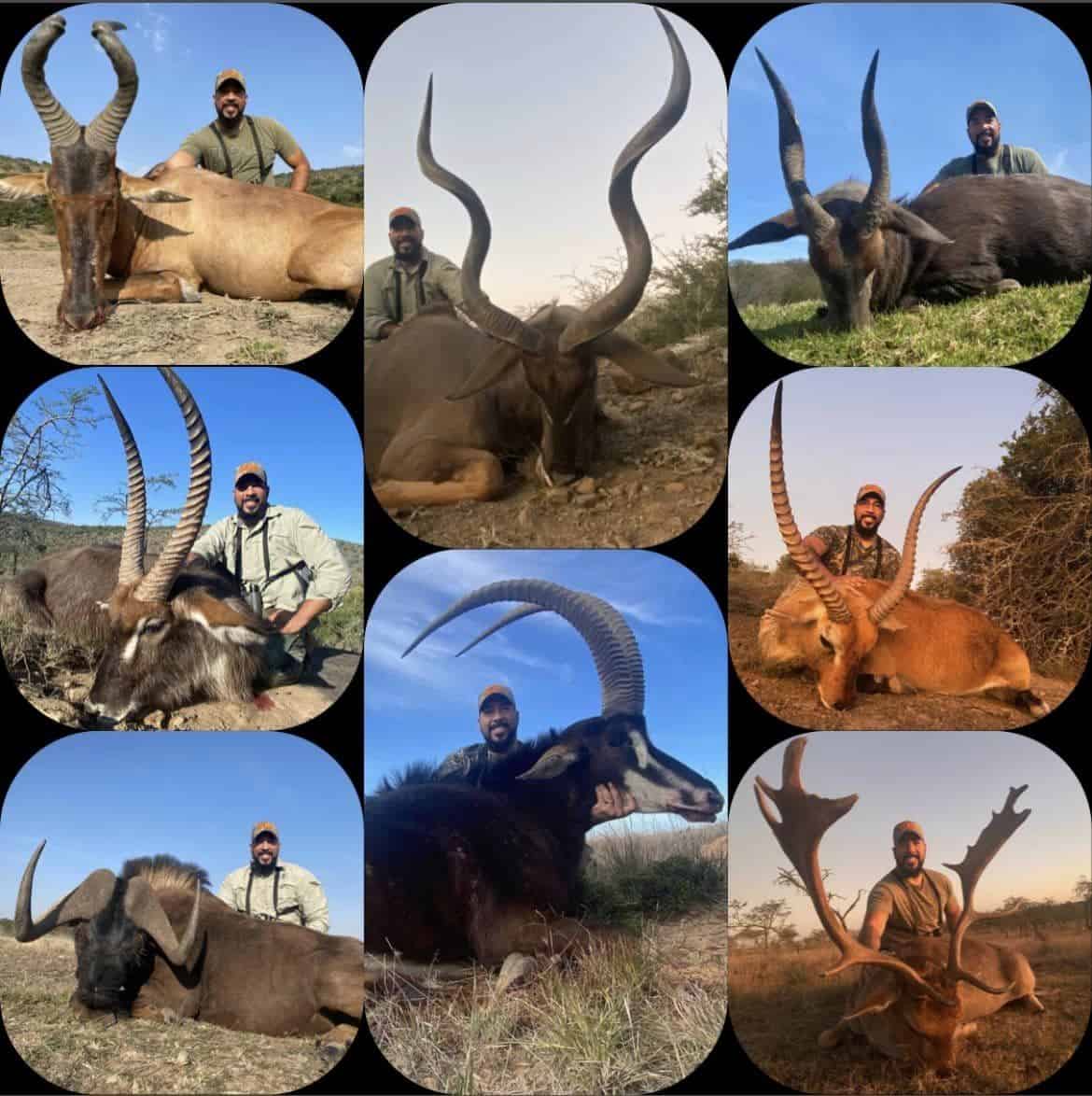 Chris Spore recommends Nick Bowker Hunting.
Nick and Benjamin were the perfect matches of outfitters for us! From start to finish treated us like old friends.

For me, only part of the trip was hunting; seeing the landscape and people was the other part. I hope to return someday

Facebook

Aaron Hoot recommends Nick Bowker Hunting.
Nick Bowker and his operation is by far outstanding! The service you receive throughout your stay is top-notch. Nick genuinely cares and looks out for your best interests for each animal you hunt. I highly recommend an African hunt with Nick! I will only be doing my African hunts in the future with Nick Bowker Hunting!

Facebook

BookYourHunt Reviews
BookYourHunt recommends Nick Bowker Hunting.
#anotherhappyhunter East Texas to the Eastern Cape – Kevin booked a hunt with Nick Bowker Hunting on BookYourHunt.com, and here's what he says:

"What I liked: The PHs were extremely knowledgeable, and their ability to spot, quickly and honestly judge, and effectively stalk the game was incredible. The sheer volume of animals seen was mind-blowing, as well as the variety (we saw 38 species of mammals alone). I could not be more pleased with Nick and everyone involved with Nick Bowker Hunting.

What I didn't like: The flight was long but a very small inconvenience for the hunt of a lifetime!"

What do you think of that?#huntinginsouthafrica#HuntWithNickBowker#plainsgamehunting#bookyourhunt

P.S. Click to read more reviews or book a hunt with this outfitter

BookYourHunt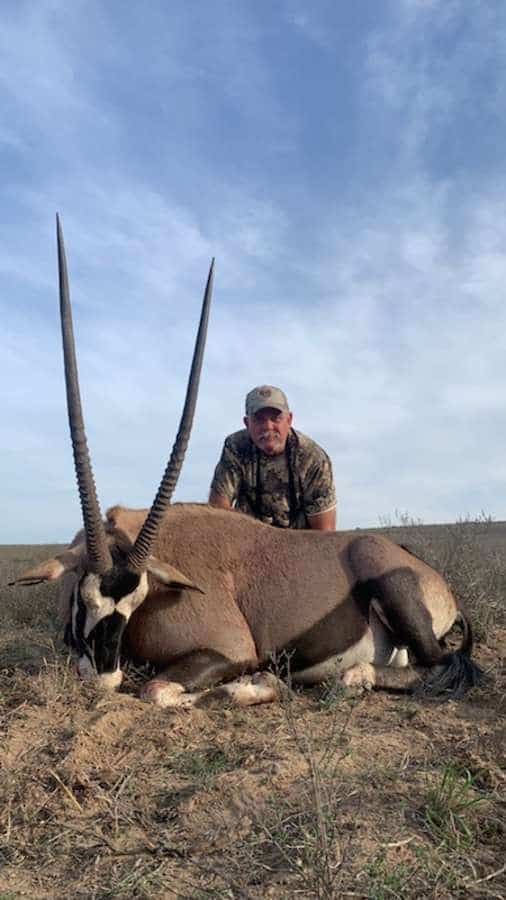 BookYourHunt recommends Nick Bowker Hunting.
#anotherhappyhunter – or, to be more precise, bowhunter. Levi booked a hunt with Nick Bowker Hunting and here's what he says:

"Price obviously always enjoyable, means I can shoot more. I also enjoyed the large and multiple concessions they have so I did not feel like I was hunting the same spot everyday.

Also the only place I have hunted in SA with 100% fair chase, we had a herd of Lechwe jump the fence on to land we could not pursue and had to move on to a new location.

Greatest part was their working great with my 14 year old daughter and even more they worked to get me within 60 yards of a Sable, Lechwe and Warthog. I took with my new Bowtech RevoltX80 bow. That is some work when they do not put out food, they do not control water, have no blinds and is low fence, a real spot and stalk time." Congratulations, Levi!

To read more reviews or book a hunt like that, click

BookYourHunt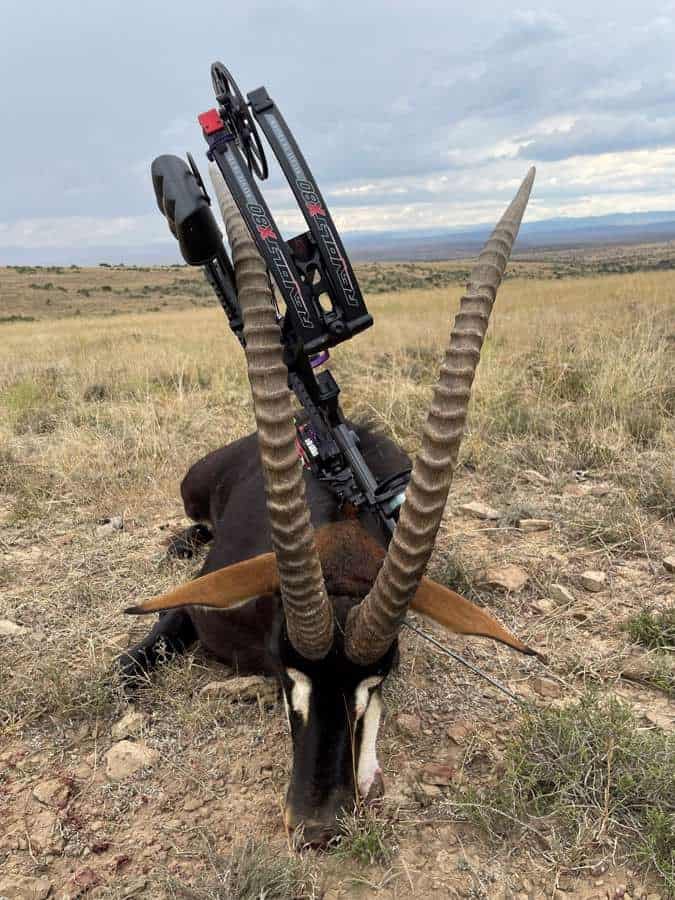 AfricaHunting Reviews
World's most popular community & resource for hunting in Africa
AfricaHunting recommends Nick Bowker Hunting.
Heading over for my second trip to the Eastern Cape with Nick Bowker Hunting. Our last experience in 2012 was such a phenomenal experience we didn't even consider looking elsewhere for another South African experience. In 2012, we filled every tag with phenomenal animals while Nick provided such a great experience with a personal touch. Unbelievable hunting with a huge array of animals.

Food, wine and accomodations greatly exceeded expectations. And, the expert knowledge Nick provides for hunters was exceptional. Nick's experience and knowledge help you understand what you are looking for and is very clear (prior to shooting) what a trophy is versus a non-trophy. I believe this is so valuable on an experience like this as we came across so many animals (that all looked like trophies to me) but Nick and his trackers clearly directed us to the trophies that we were after.

I look forward to reporting on "Round 2" with Nick Bowker Hunting upon our return. Until then, enjoy some of our photos from 2012!!

AfricaHunting

AfricaHunting recommends Nick Bowker Hunting.
10 days was just perfect-plan on spending 2 weeks with shooting, packing, travel, jet-lag etc.

Then there is the list of animals we could to harvest. It is daunting. They run from small-hard to see and hit, to huge-easy to see and harder to kill. The diversity of habitat in the East Cape of South Africa is astonishing, from low, dark, river bottom to high baldy mountain tops within an hour's drive.

Our host, Nick Bowker, and his brother Rob, rugged 5th generation South African "farmers" of English decent, were most gracious and met us at the "Tumbo" Airport in Port Elizabeth on the East Cape. This is a small airport on the order of Colorado Springs or Corpus Christi. Guns, ammo, luggage all right there and a great relief after a nearly 24 hours of flight from Minneapolis, Houston, Atlanta, Johannesburg and finally Port Elizabeth.

AfricaHunting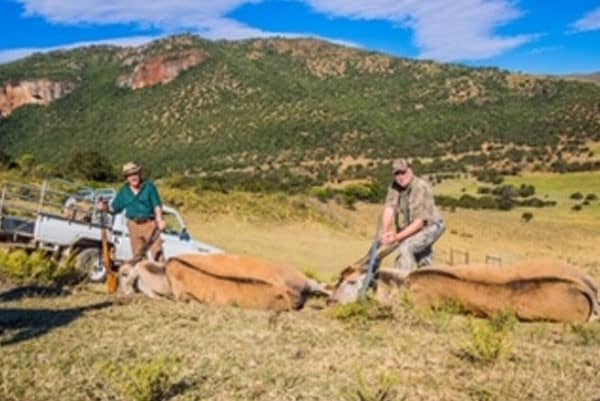 Coming to South Africa is probably on every hunters bucket list. If you are looking to come but skeptical on the outfitter to use? Give Nick Bowker a call! You booking your hunt with him will be the best decision you can make! Nick has extensive knowledge of these game animals, their habitats and what is a good quality trophy!

My experience here with Nick has left me 100% satisfied! Nick and I had so much In common there was hardly any silence between us (LOL). This was a plus for me coming here alone and not knowing if it was going to be mostly business and awkward silence. However, that was not the case at all. Nick and his family made me feel very welcome! All of them are great company, fun to be around and talk with. We shared countless laughs around the fire each night.

The Kudu hunt was by far the best! Nick went above and beyond to make sure I got a great trophy. We passed up on several good bulls. Yes, They were shooter bulls and I assure you if Nick was not who I booked with I might have took the shot on one that size. Nick would say that's a good bull or that's a shooter but I seen better around here.

I have had the best time here! I promise you that 8 days seems long when you arrive but will go so fast! and before you know it your packing up for the trip back home.

If you are planning this hunt and You booked with Nick you won't be disappointed! If your looking to do this hunt but don't want to come alone call Nick and have him contact me. I'll be more then happy to make another trip back here and hunt with you.

AfricaHunting

Linkedin Reviews
Vlado Stanek recommends Nick Bowker Hunting.
Nick is by far the best hunting outfitter I have ever met. Both my hunts with him were an absolute thrill and success. He is very attentive to both nature and the client. I always learned something new. Nick's hunting farm is huge, and you will encounter a very broad range of animal species and nature biomes. Should you plan to hunt in South Africa, Nick is your guy!

Linkedin
Lee Rabe recommends Nick Bowker Hunting.
I have hunted with Nick 2 times (2004 & 2008) and can't wait to go back. I consider him a great friend and look forward hunting in 2014 with my daughter Lacey and friend Tim if this year goes well!

Linkedin
Thomas Audetat recommends Nick Bowker Hunting.
My wife, Donna, and I hunted with Nick Bowker in May 2010. Once on the ground in South Africa with Nick, everything was great. On our ten-day safari, we took ten animals, including a great Kudu, Waterbuck, and Nyala. We plan to return to hunt eland, gemsbok, and another bushbuck.

Our stalks, which ranged from a couple of hundred yards to more than a mile, were most often productive, and his knowledge of the game was uncanny. Nick and his family control vast amounts of great hunting property, and he knows where to go for a good specimen of any animal available in his area.

Nick and his staff made our stay a wonderful experience. We were treated like the king & queen of the manor. The food was exceptional, and the ambiance of the farm was delightful.

We look forward to seeing him again in the spring of 2012.

Linkedin
Google My Business
Ron Kolde recommends Nick Bowker Hunting.

Wonderful trip at Olivefountain Ranch. The hunting has been phenomenal (list of 8 animals collected in 6 days), huge areas to hunt and the quality of animals is excellent. Accommodations and meals are above my expectations. The hunting guides have been second to none. I'll visit again!
Update with 2nd visit in July 2022 for the glamour antelope species this trip, Red Lechwe, Sable, Kudu, Waterbuck, Gemsbuck, Red Hartebeest, Burchell's Zebra, warthog, Bushbuck and a piebald Steenbuck. Successful on all and missed a nice Common Duiker. Again it was a great safari with Nick Bowker and my PH Ben Pringle.

Enjoyed the accommodations and services provided. Sad to see it end, weather was cool mornings and pleasant afternoons. Quality of game hunted was excellent. Many more new concessions hunted this time, which I really liked. I believe I'll be back again. A few pics added.

Google My Business
Frank Maesrti recommends Nick Bowker Hunting.
My Father and I just finished a 20 day Safari with Nick Bowker and his Family. Nick and his family run a perfect well oiled hunting operation. I had the privilege to have Gary Phillips as my PH. The knowledge he holds of the local lands, game, and customs cannot be duplicated. Nicks equipment is perfect. My dad and I both used Nicks custom 300 Winchester rifles. Shots ranged from 50 yards to 550 yards. Equipment worked perfect. The food and drink at Nicks Lodge was fantastic! The accommodations were amazing! Do not pack heavy! Your laundry will get done daily!!

The game in Nicks hunting area are known to be bigger and horn growth is known to have more mass and length due to minerals in the ground and genetics. I have had the privilege to be able to hunt and guide in many different camps in many different countries. Nick Bowker and his crew is undeniably some of the best in the business. Please reach out to Nick and ask for my contact if you would like to chat!

Google My Business
Client Reviews
2012 & 2019
"One of my elk hunting buddies met Nick at an SCI event in 2001. He went on a trip in 2002 with Nick and had a phenomenal experience.
During several elk hunts, he always said, "We should go to South Africa, where we could shoot 6-8 trophies for the cost of one of these elk hunts" (minus airfare). It was tough to believe that was true, as I always heard how expensive SA hunting is.
Because I trusted his judgment and experience, three of us tried it in 2012 (two of us for the first time, and one person went for the second time).
Shortly into this 2012 trip, I knew I would be returning. Honestly, due to our experience, we didn't even look at or consider going with a different outfitter.
I am sure there are several excellent PHs, but what Nick provides is precisely what I want. No high-fenced hunting, all fair chase with the ability to see thousands of animals daily. Nick's knowledge and skills allow us to identify shooters and position us for ethical shots.
His accommodations are perfect for what I want. Not a 5-star lodge with 6, 8, or 12 other hunters, but just our group. Extremely comfortable accommodations, top-notch staff, and fantastic food and drink!
Never in my two trips with Nick have we seen another hunter in the field. His access to free-range hunting is excellent. I guess you could say I was lucky to know the right person that happened to meet and go on a Safari with Nick!"
Client Recommendations
2002
"I met Nick in 2002 through a friend of mine. I was looking for an Elk hunt, and my friend Steve P. suggested I meet Nick Bowker, a Professional Hunter from South Africa. Nick was coming to town for a Safari Club event and the Outdoorsman show in Reno.
Nick and I met, and we talked about the services he offers. We discussed expectations and set some parameters. He gave us great info regarding shipping gear and guns to RSA, and he set up the balance of in-country travel, lodging, meals, trackers, skinners, etc.
He picked us up in Port Elizabeth and took us to his ranch near Bedford. It's the perfect place to get away from a hectic life and relax while having a world-class experience hunting African game.
The lodge is quaint and is precisely what I expected. The meals are incredible and were much welcomed at the end of each day's adventures. As far as hunting goes… well, you will see more animals in 1 day than you will see in 10 years of hunting in the US. RSA is awesome.
Client Recommendations – My time with Nick was idyllic
We crawled through thickets, climbed atop outcroppings, and had a great time spotting and stalking. Nick is the consummate professional and exceeded my expectations. With his expertise and guidance, I bagged some incredible plains game, and we did our best to eat our bellies full of it every day.
My tracker and skinner were Alvin and Room. I swear they can spot the smallest spec in the Bush and get you right where you need to be, and the rest is up to you. My time with Nick was idyllic, and he is a lifelong friend because of it. If you want a great hunting experience with a guy you can trust, look no further than Nick Bowker, Professional Hunter!"