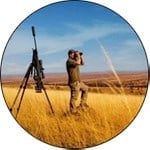 Summary
Black Springbok hunting occurs on the open plains, and stalks can be tricky. Sometimes, a long shot will be required.
Springbok is the best-eating of all African antelopes.
Black Springbok has no seasonal restrictions in Eastern Cape, South Africa.
Nick Bowker Hunting offers Springbok game safari hunts year-round.
The Springbok is a medium-sized antelope, graceful and handsomely patterned, with a long fold of skin on its back, and the hunter should always consider a springbok trophy.
The springbok is the national emblem of South Africa.
Hunting springbok game is a favorite pastime for locals.
Hunt the black springbok as part of the four-color phase springbok slam in South Africa.
Hunting Black Springbok in South Africa

Black Springbok Hunt

African Hunting
Black Springbok forms part of the four springbok color variations, and the black Springbok usually ranks number two, behind the common Springbok, in the body and horns of the four color variations.
A medium-sized game gazelle. The black Springbok is not a subspecies but a color phase of the South African Springbok.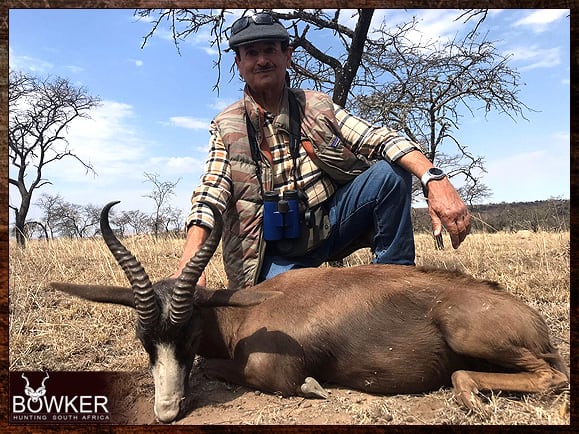 Springbok Hunting
Black Springbok was developed by selective breeding; the skin color is all black except for the white facial stripe running up the nose's front.
They have all the same traits as the common Springbok. Hunting the black Springbok is no different from pursuing a common springbok.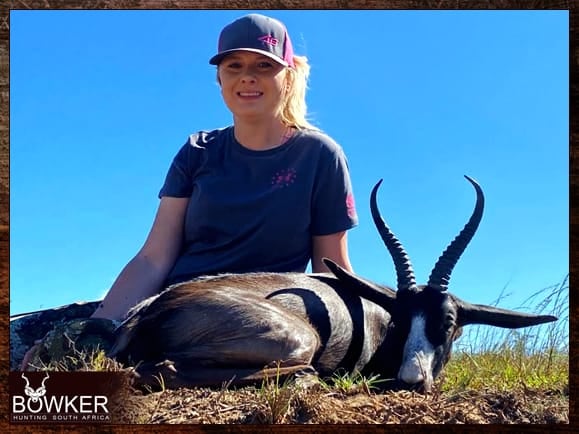 Rifle Hunting Black Springbok
We offer competitive hunt packages for rifle hunting in South Africa. Black springbok hunts take place on our ranch in South Africa. Hunting black springbok takes the form of walk and stalk methods.
Springbok are plentiful and free-ranging, and hunting prices are cheap for the hunter. Hunters may also consider completing the springbok slam.
Consider shooting a black springbok as an add-on to one of our hunting packages on your Africa hunt. A rifle is included free of charge, together with ammunition, as part of our hunting day fees.
Hunters can visit our contact pages to get detailed booking and hunting information.
Black Springbok Hunting Trophy Fees in South Africa
How much does it cost to hunt a Black Springbok?

The trophy fee for a standalone Black Springbok hunt is between $400 and $500. Daily rates vary between $250 and $500 per day
How to hunt Springbok?

Springbok is hunted on the open plains. The Springbok is wary and difficult to approach. Longer shots will, therefore, be required.
Springbok bunch together. Shooting the right one will need careful communication with your professional hunter.