Plains and Savannah Hunting Accommodation
Our primary hunting accommodation is Olivefountain Lodge. Olivefountain is on the Southside of Bedford and offers comfortable settler-style accommodation. Olivefountain a traditional settler farmhouse built in the 1800s and recently upgraded.
The lodge, situated at the center of our hunting areas, offers an authentic hunting experience. All bedrooms have en-suite bathrooms and have been superbly modernized to the highest standards to provide all modern conveniences.
You will be treated to a diversity of mouth-watering cuisine around a blazing campfire under a star-studded African sky. These meals are prepared the traditional South African way, and there's lots of it! WiFi is available.
We also offer a Mountain Lodge on the North Side of Bedford in the Kaggaberg Mountains in conjunction with Benjamin Pringle.
Our primary hunting accommodation is Olivefountain Lodge. Here you will be hosted in comfortable settler-style accommodation.
Olivefountain is a traditional settler farmhouse built in the 1800s and recently upgraded.
Hunting Accommodation – Olivefountain Lodge
Bedrooms and bathrooms have been superbly modernized for hunting accommodation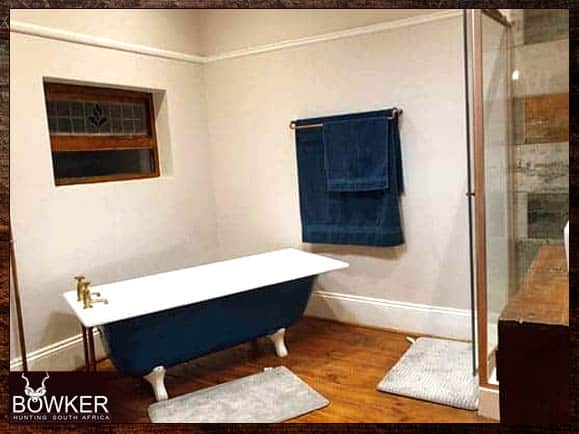 Mountain Hunting Accommodation
Guests will stay with Benjamin Pringle in a beautiful colonial farm lodge "Thorn Dale" in the Eastern Cape, South Africa, which has been the family home since 1824.
Enjoy warm hospitality and a decadent menu. Braai's under the stars, traditional Potjiekos, and homegrown lamb will leave you with true South African food and flavors.
 
Enjoy a stew prepared outdoors in Africa called potjiekos or "pot food." Prepared in a traditional round, cast iron, three-legged pot and found in the homes and villages of people throughout southern Africa.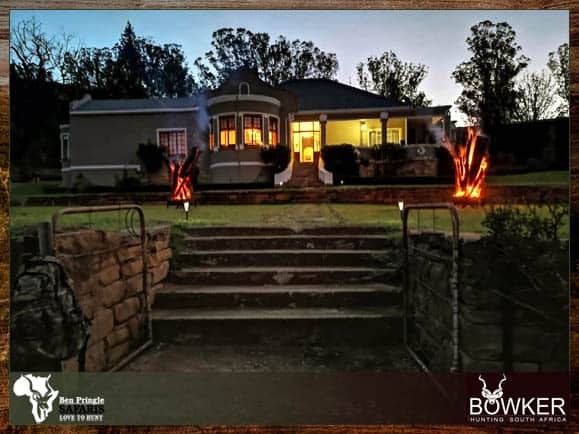 ​The bedrooms at Thorn Dale Farm Lodge are comfortable and spacious with all modern conveniences and facilities.
 
The design of the farmhouse is open-plan. Spacious dining areas allowing for light and fresh air. Evenings are in front of a roaring fire with good food and wine and the stories of the day.
 
In summer, there is a refreshing pool to dip into and dinner around a campfire under the stars in a boma; the perfect way to end the day. Come and enjoy an authentic African hunting safari with us.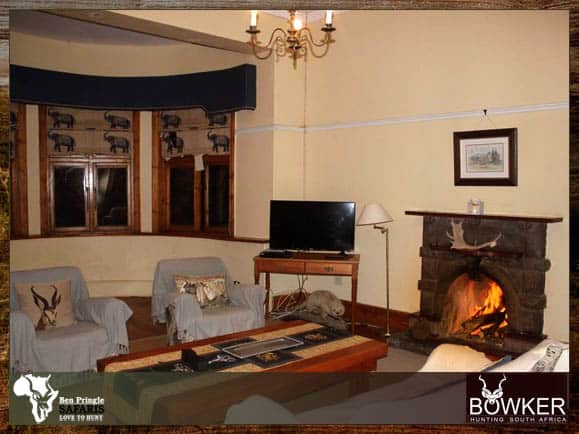 Accommodation for Non-Hunters at the Royal Alfred Marina in Port Alfred
We also offer Non-Hunters accommodation at the prestigious Royal Alfred Marina in five-star accommodation.
The Royal Alfred Marina is situated in Port Alfred. Here accompanying Non-Hunters can base themselves.
A guide with a Vehicle will be available daily to take Non-hunting members on guided tours.
The cost per Non-Hunter inclusive of a full-time guide with a vehicle is $350 per person per night, all-inclusive. Children under 12 years stay at half price.
Accommodation for Non Hunters at the Royal Alfred Marina in Port Alfred
Included in your daily fee while staying at the Royal Alfred Marina are the following:
Five-star accommodation with a view of the Royal Alfred Marina
A full time Guide with vehicle
Pick up and drop off at Port Elizabeth Airport
In addition, the guided activities listed below are included in the daily rate:
Game Park Activities & Big Five Viewing
Guided Day Visit to the Addo Elephant National Park
Guided day visit to the many Private Game Parks such as Sibuya game reserve.
River Activities
River Cruises and Canal Cruises
Canoeing in the Royal Alfred Marina and Kowie River
River and Surf fishing
Beach Activities
Guided Beach trails
Surfing with an Instructor
Hiking
Guided Hiking trails
Treehouse trail
Golf
18 holes at the Royal Alfred Golf Course
Excluded from your daily fee are the following:
Entrance fees for Private Game Reserves
Overnight accommodation outside the Royal Alfred Marina and Olivefountain lodge
Meals and Refreshments at Restaurants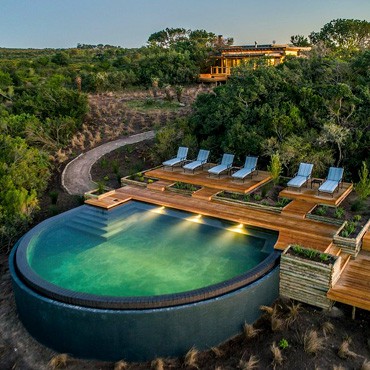 Royal Alfred Marina
The Royal Alfred Marina is a private, secure gated estate completed in 1989. The Royal Alfred Marina is a unique and remarkable development, consisting of five islands within a 45-hectare private estate in the Kowie River Estuary.
The islands are linked by arched bridges across the canals affording navigational ease for craft moving around the marina. Nowhere else in Africa will you find a similar or more exclusive waterfront complex.
Every homeowner enjoys a private water frontage and a personal jetty. Visitors can enjoy boat cruises through the Marina canals, and if you feel energetic, you can hire a water pedalo or canoe to make the trip.
Port Alfred's glorious East Beach is on Marina's seaward side and stretches for many kilometers along the warm Indian Ocean's edge.
Homeowners have access gateway to this pristine stretch of golden sands.
Here you can walk for what seems like ever, breathing in the freshest sea air and enjoying the changing scenery as the seasons merge one into the other and the sands shift.
This beach is a favorite haunt of fishermen, joggers, sun worshippers, dog walkers, swimmers, and surfers.
Port Alfred
Port Alfred is a small town with a population of just under 26,000 in the Eastern Cape province of South Africa. It is situated on the eastern seaboard of the country at the mouth of the Kowie River. The town is almost exactly halfway between the cities of Port Elizabeth and East London.
Port Alfred was established in the early 1820s by British settlers who were moved into the area by Lord Charles Somerset as a buffer between the Colony and the Xhosa people.
Port Alfred boasts not only the climate, the water, the beaches, and the historical connections, but has stepped into the modern world with top-class shopping malls, sophisticated healthcare, a Royal golf course, intimate small-boat harbor, light industry, international hospitality university, and 43 Air School, a world-class training facility for pilots and air traffic controllers.
Visit Port Alfred; chances are you'll meet some fascinating locals with plenty of yarns to tell. Folks are friendly around here.
Port Alfred to Bedford