Hunting Accommodation in South Africa- Hopewell Lodge
We are proud to announce the opening of our new hunting lodge, Hopewell.
Nestled at the top of a valley, the lodge has breathtaking views of the surrounding bush veld and savanna with the Kagga and Winterberg mountain ranges in the background.
Our luxurious hunting accommodation in South Africa is of the highest standards, with a splendid charm and charismatic ambiance.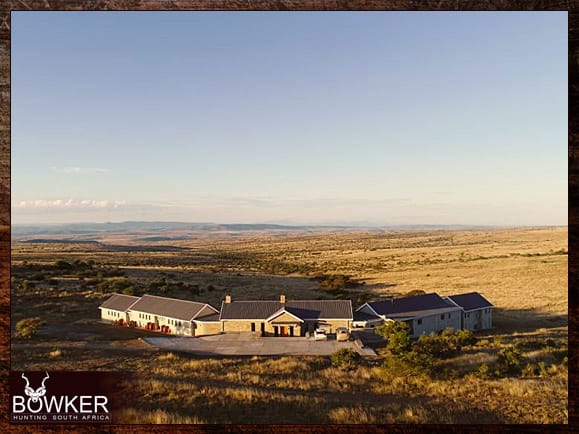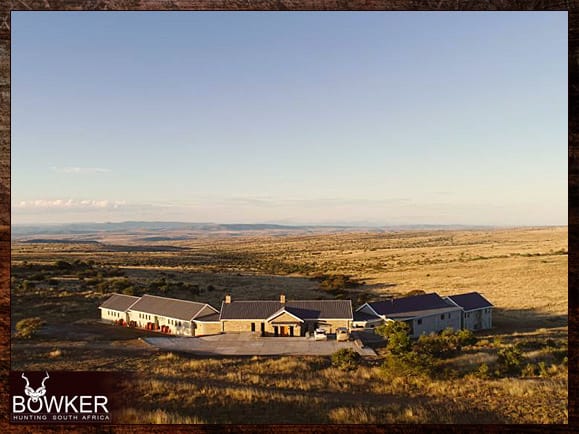 We have 8 double bedrooms with en-suite bathrooms which are modernized to the highest standards to provide all modern conveniences including Wifi.
Unwind in the comfort of our grand lounge, surrounded by a warm fireplace, the perfect spot to spend long evenings socializing with friends and family or simply relaxing by the fire.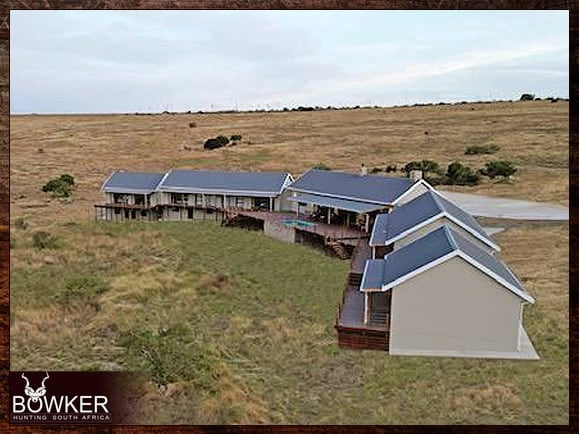 Enjoy sunny days on the elevated wrap-around wooden deck alongside the pool. The lodge is totally off the grid and independent of the state's electrical distribution system.
We rely solely on a large state-of-the-art solar system augmented with a significant diesel generator.
Wooden Deck and swimming pool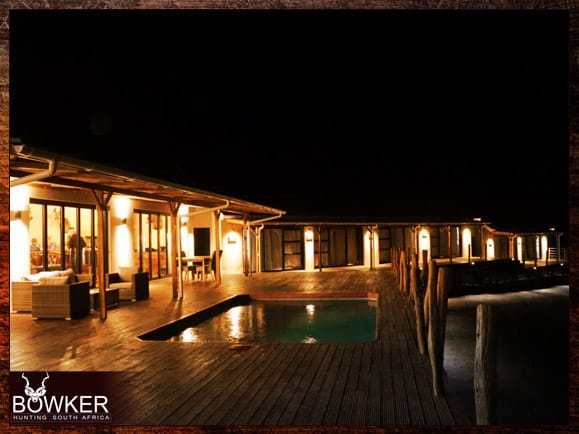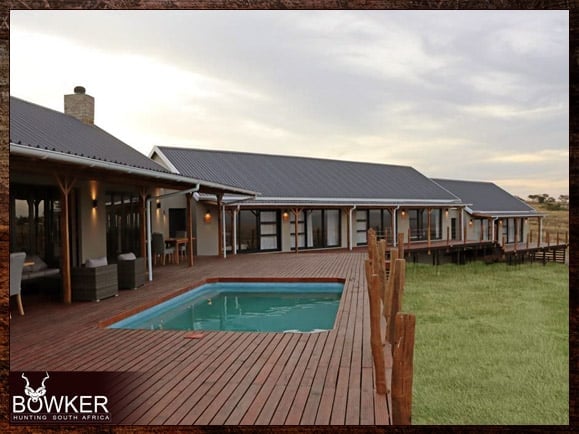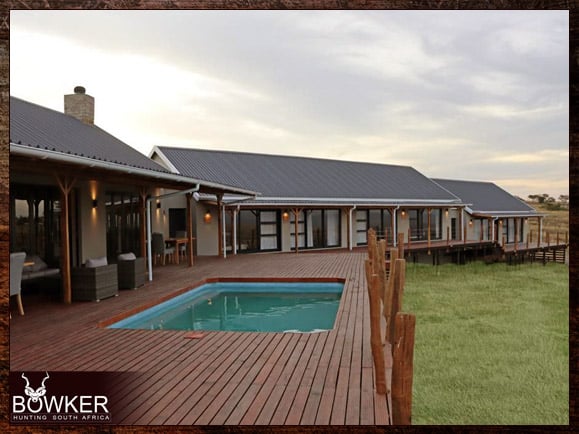 The lodge front has a 340 square meter wrap-around wooden deck. At the center of the deck is a swimming pool.
Our elevated deck gives a unique vantage point to view and experience the raw and authentic beauty of the Eastern Cape, offering a rare and unspoiled African experience.
Enjoy the breathtaking sunrises from the comfort of the deck before the day's hunting. The awning on the deck is made from authentic African yellow wood as well as Oregon pine.
Wooden beams for the awing were restored from old Dutch farmhouses built in the 1870s on the surrounding properties.
Hopewell client rooms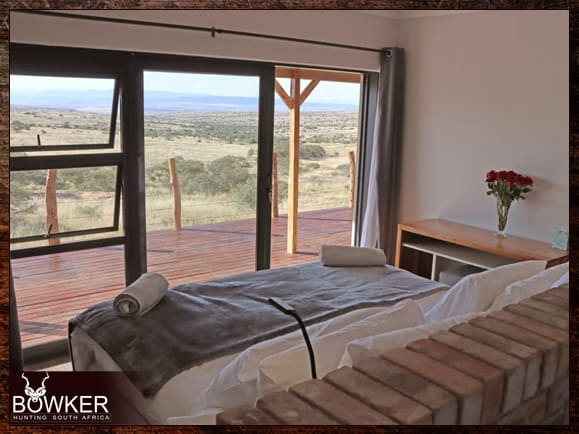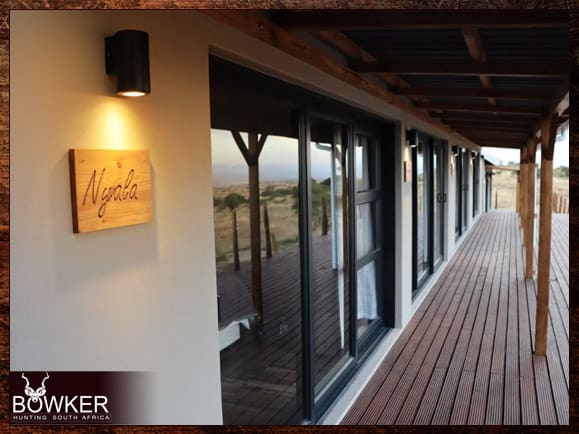 8 double rooms are available, all with magnificent views of the beautiful Hopewell Valley and savanna to the mountains beyond.
All bedrooms have en-suite bathrooms and are modernized to the highest standards to provide all conveniences including Wifi. Each room is named after one of our signature plains game trophies.
Hopewell entertainment and dining area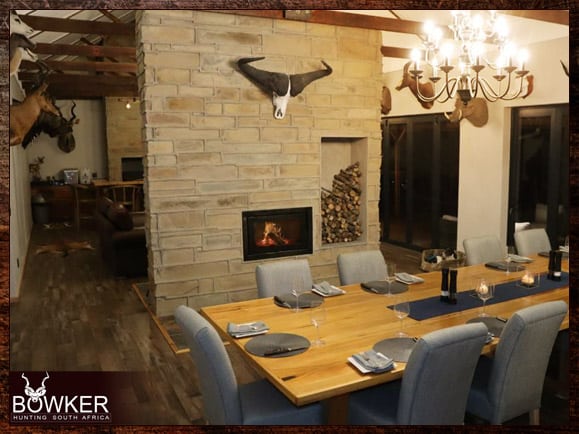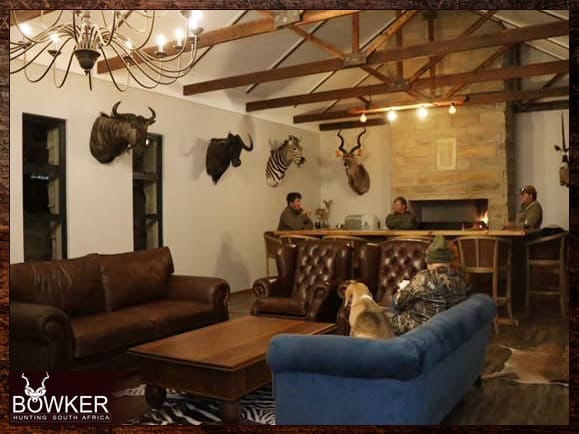 The inviting atmosphere and cozy ambiance of the lounge, coupled with a well-stocked bar, make it the perfect place to unwind after a day of hunting or exploring the surrounding area.
Whether you want to relax and recharge or socialize and make new friends, our lounge is the ideal setting for all your needs.
The entertainment area is separated by a double-sided stone fireplace. On one side is the dining area and on the other a lounge and bar area with a stone barbecue.
The stone fireplace and barbecue are also restored from the old Dutch farmhouses.
Dining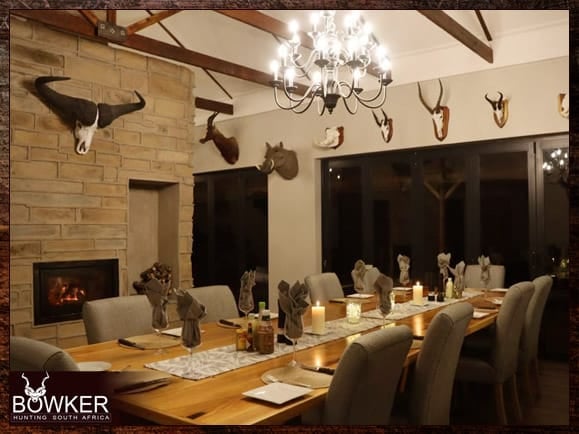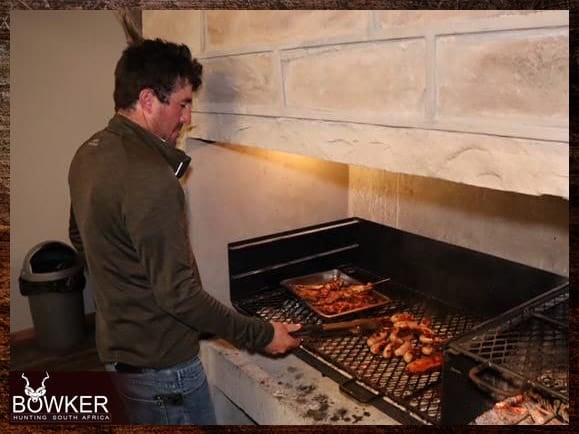 Indulge in luxurious comfort in the heart of the African wilderness. Our hunting lodge offers the highest quality amenities and services, providing a lavish retreat from your adventurous hunting excursions.
With breathtaking views and delectable dining, we are passionate about giving you a once-in-a-lifetime holiday.