A Hunt in South Africa should be on all hunter's bucket lists and will be an unforgettable experience.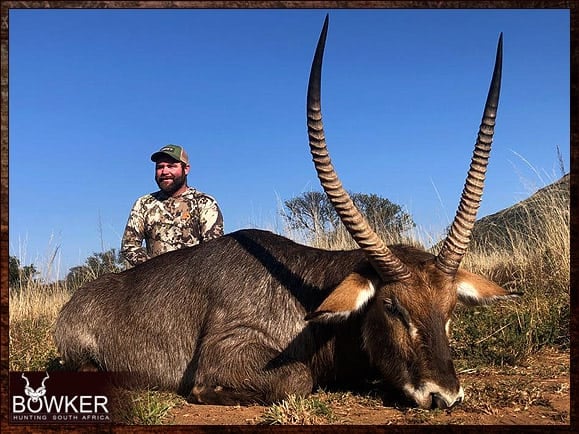 Table of Contents
Why Hunt South Africa?
An estimated 10,000 trophy hunters visited South Africa in 2018
There is more wildlife in South Africa than there was 50 or 60 years ago.
There was now an estimated 25 million head of game in the country than in the 1950s when less than half a million individuals left.
A hunt in South Africa is more affordable, with a greater variety and number of animals than anywhere else on the planet.
Furthermore, superior infrastructure versus any other African country and inexpensive air travel make South Africa's hunt an unforgettable experience.
Visiting South Africa also provides a unique opportunity to see the Big Five and tour our famous National Parks.
In addition to the world-famous Kruger National Park, South Africa is home to nearly 150 other National Parks and reserves, including those dedicated to nature, marine life, forestry, botany, and other unique interests.
South Africa shares a special place in the hearts and minds of many hunters and non-hunters alike.
The area you will be hunting in South Africa is a safe and secure place to visit
In 25 years of the safari business, we have never had any incidents. In particular, it will be in a remote, sparsely populated area with Nick Bowker, your professional hunter and guide, 24 hours a day.
Nick and his family have been living in the area since the 1820s. Bedford has had no incidents of unrest.
Your hunt in South Africa will be an unforgettable experience.
Mild Climate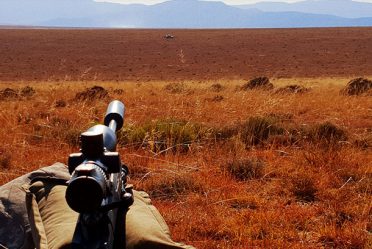 We hunt in South Africa all year round; however, the best months for hunting are March through September.
Bedford has a mild climate and receives around 390 mm of rain per year, with most rain falling in January through April in thunderstorms.
The average midday temperatures range from 18 degrees in June to 28 degrees in January.
The region is the coldest in July when the temperature drops to 4 degrees at night. The average nighttime low is 10 degrees.
No Malaria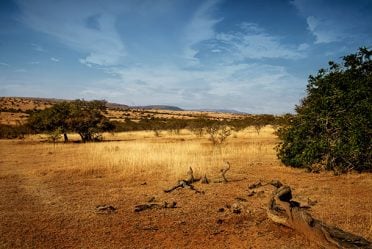 We hunt in a malaria-free area at all times! Also, we have private hospitals and medical care available in the surrounding area.
We recommended vaccinations against typhoid and hepatitis A and B, as well as tetanus.
Consult your doctor for your specific circumstances.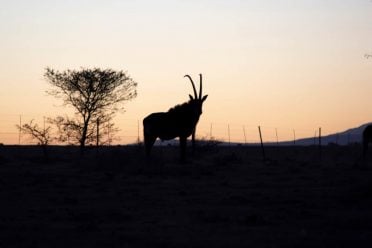 Easy to Travel to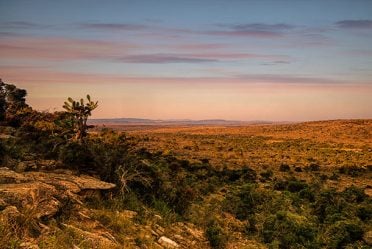 You will fly to Johannesburg or Cape Town and then take a connecting flight to Port Elizabeth.
Nick will meet you in Port Elizabeth at the Airport and drive you to the hunting lodge.
The hunting lodge is around two hours drive from Port Elizabeth in the Bedford district.
Alternatively, if you are departing from Europe, we can accompany you from your final port of departure in Europe to Port Elizabeth.
Bedford your hunting destination in the Eastern Cape Province of South Africa
Our lodges are about 20 minutes drive from Bedford. See lodging options.
Bedford is a rural town in the center of the Eastern Cape province of South Africa. It was established in the mid-19th century.
It is located on the southern edge of the Winterberg mountain range.
A vibrant country district famous for our annual Garden Festival (second-to-last weekend in October), fun-loving farmers, and fabulous hospitality.
Bedford is waiting to welcome you.
The historic village is tucked up against the Kaggaberg mountain (part of the Winterberg range). Our farms stretch across extensive grasslands and up into the dramatic Mankazana, Cowie, and Baviaans River valleys.
Angoras, merinos, beef cattle, goats, and game are to be seen all over.
Enormous skies, fresh air, friendly people, and overwhelming natural beauty bring our visitors back again. Some end up staying forever.
Your hunt in South Africa in the East Cape midlands will be a hunting experience unlike any other.
Route from Port Elizabeth to Bedford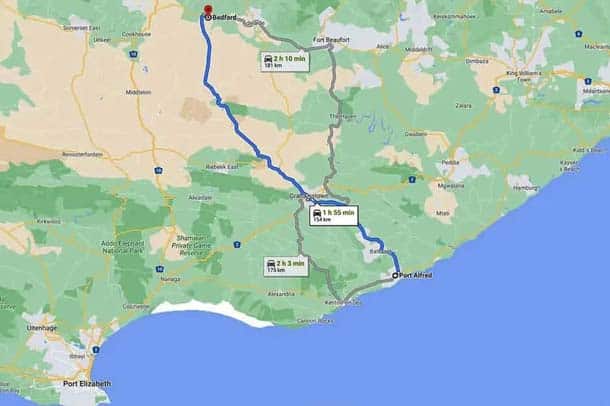 Getting to South Africa
First-world airports and easily affordable travel make South Africa a convenient and trouble-free hunting destination. There are daily flights between the US and Europe, and South Africa.
Although relatively long, the flights are very affordable and comfortable.
There are both direct flight options, and if you prefer to break the flight up, then there are options through Europe or the Middle East from the United States.
Come and join us for a hunt in South Africa.
Only Airlink will fly your guns inside South Africa. This is very important when booking your flights. Your connecting flight from Johannesburg to Port Elizabeth (Now called Gqeberha) should be Airlink if you are carrying rifles.
With internet search websites booking flights has never been easier. Others may prefer the security of a professional to book their flights and assist with all travel plans.
We would suggest a specialized hunting travel agent such as Gracy travel. Getting to and from South Africa should not cost more than $1500 to $2500. The Skyscanner application below can be used to plan your trip to South Africa.
Frequently Asked Questions about your hunt in South Africa
How much is airfare to South Africa?
During the busy season, May to early August, Airfare from the United States typically runs from $1500 to $2500 round trip economy, depending on whether you fly direct or through Europe. Outside of this time, you can find it as low as $1200. We recommend Delta Airlines direct from Atlanta to Jo'burg, a 15-hour flight if traveling from the US.
Will someone meet me at the Airport?
We will be waiting at Port Elizabeth airport for you.
Are there any sight-seeing opportunities near the Lodge?
Yes. Please read about the available options below.
Other activities while hunting in South Africa
We can arrange local guided tours for non-hunting members of your party or at the end of your hunting safari.
You may either stay with the hunters in the Bedford area, or we would recommend staying in Port Alfred, the central village along the Sunshine Coast. Port Alfred is about two hours drive from your hunting lodge.
Are you interested in visiting some parts of the country? Let us know; we can surely help to organize visits to even more distant places.
Your non-hunting adventures will be taken care of by our local tour guide
There is so much to do: big five safaris in the private game lodges or one of the National parks close by, exploring beautiful coastline and beaches, surfing, golfing, riverboat cruises, whale and dolphin safaris, hiking trails through the African bush, beach horse-riding or just visiting the local shops and restaurants.
For non-hunters wishing to stay in Port Alfred, we will design a package to suit all your needs, including a full-time guide.
All destinations listed below are within two hours drive from your hunting lodge in South Africa.
Big Five Safaris While In South Africa
Addo Elephant National Park is a diverse wildlife conservation park situated close to Port Elizabeth in South Africa and is one of the country's 19 national parks.
Spend a day or two after your hunt in South Africa, enjoying a safari in the Addo Elephant Park.
It currently ranks third in size after Kruger National Park and the Kgalagadi Transfrontier Park.
More than 600 Elephants. This Park offers some of the most spectacular elephant viewing in the world.
The over 400 Cape buffalo are now being seen more often during the day due to the influence of lion reintroduction. This is one of the largest disease-free herds in South Africa.
Lions were introduced into the Park in late 2003 and have adapted well to their new environment. Lions are most often seen in the early morning or on sunset and night drives.
Spotted hyenas were also reintroduced in 2003, fulfilling the same role as lions in restoring the natural balance to the ecosystems in the Park by controlling the numbers of herbivores.
Leopard is seldom seen, being shy and secretive animals, but does occur in most expanded Park areas.
Source: www.sanparks.org
Activities available include:
Horse Trails
4x4 Trails
Hiking Trails
Marine Eco Tours
Addo Indlovu Spa
We can easily arrange to add on activities after the completion of your hunt in South Africa.
Big Five Safaris – Mountain Zebra Park
Mountain Zebra National Park is a national park in the Eastern Cape province of South Africa. 
Proclaimed in July 1937 to provide a nature reserve for the endangered Cape mountain zebra.
It offers an incredible lifetime experience – cheetahs tracking on your foot. Drive out with your guide to search for them.
When a signal from a collared cheetah is found, you will have the opportunity to get closer on foot. 
Invigorating crystal clear air, beautiful scenery, tranquil ambiance, and an abundance of wildlife offer you an unforgettable African wilderness experience in conjunction with your hunt in, South Africa.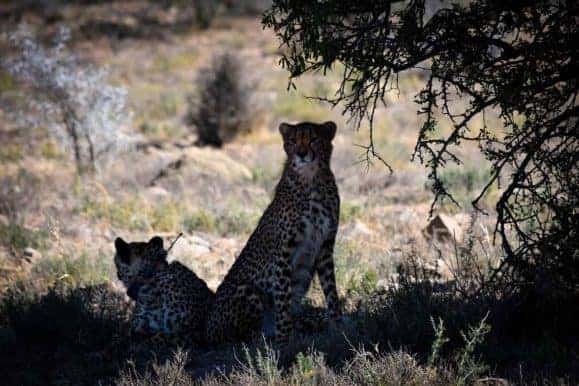 Sibuya Game reserve
Sibuya is one of South Africa's most unique Safari destinations. From its Reception near the Ocean, it is unique in that it has a more navigable river than any other game reserve in South Africa.
Consequently, it is hard to beat as a birding destination: there are nearly 400 different species. This breathtakingly beautiful game reserve is a sanctuary to abundant wildlife from elephants to otters, and almost everything in between, including the Big Five.
Thought by some to be one of South Africa's most beautiful private game reserves, with its sweeping panoramas encompassing the ocean as a backdrop.
Sibuya covers nearly 30 square kilometers of varied terrain and vegetation. From the moderately open river plains through the pristine Lower Albany Thicket, Cape Fynbos patches, and a windswept, grassy plateau favored by many larger grazing animals.
Sibuya supports one of the highest wildlife densities in South Africa, ensuring an intensive and varied game-viewing experience in spectacular surroundings. Source: Siyabuya Game Reserve
Sibuya is a good add-on stay after your hunt in South Africa.
Royal Alfred Golf Course in Port Alfred
The Royal Port Alfred Golf Course is one of the oldest and best known in South Africa and was established in 1907. The undulating course snakes its way through thickets of pristine coastal forest and over hilly dunes, always with the smell and sounds of the Indian Ocean close by, whose blue waters offer the most panoramic views from many of the fairways.
Every slope, mound, and dip remain untouched in true links tradition, demanding creative shot-making and deft reading of angles. Adding to the allure and charm of the course is its resident wildlife.
Normally shy bushbuck will continue grazing contently as you walk by while springbok and impala "pronk" with delight. The blesbok, fallow deer, and giant tortoise peer at the golfers with suspicion. Visitors are always most welcome.
Take in a few rounds of golf after your hunt in South Africa.
River cruises
Spend a fabulous afternoon cruising up the Kowie River while taking in the breathtaking scenery that the countryside has to offer.
Kick back and enjoy the unique relaxation that comes from gliding over the water while the pristine bush slips by as you move up the river.
Enjoy a frosty beer or glass of chilled champagne.
There are some animals to admire along the way, and if you are lucky, you may spot Buffalo, Rhino, or Giraffe.
As the sun passes lazily overhead, you make progress to waters meeting way up the river. Approximately 15 miles up the river.
You can then gently float down the river back to the home base and enjoy a delicious homemade South African meal.
Beach Hiking Trails
CANNON ROCKS HIKING TRAIL:
7km from Cannon Rocks through indigenous forest and back through the spectacular shifting dunes and along the beach
DIAS CROSS:
Walk along the beach from Bushmans River Mouth to Dias Cross. Approximately one and half hour walk
EAST BEACH PORT ALFRED:
Walk east towards the Riet River and discover spectacular dunes for dune boarding, rocky outcrops for fishing. Approximately 1-hour walk
GREAT FISH RIVER:
Walk east from the mouth of the Great Fish River to Kleinemonde. Discover cover beautiful rocky outcrops, excellent fishing spots, and the famous 3 Sisters.
KARIEGA BEACH – SHELLY BAY:
Walk west from Kareiga Blue Flag Beach to the Bushmans River mouth.   Discover spectacular rock formations, picturesque coves, natural rock pools—approximately half an hour.
Deep-Sea Fishing and Sea Cruises.
Port Alfred offers some great fishing. Our experienced local skippers will take you through the Kowie River Mouth to our fishing reefs in front of Port Alfred.
Not only can you keep what you catch (within bag limits), you may strike it lucky with sightings of dolphins, migrating whales, and the Mola Mola (sunfish). Rods, reels, and bait are supplied for you.
You will experience a river mouth launch, an exhilarating run through the breakers, and a day of fishing sensation.
We offer both bottom fishing and deep-sea trolling, giving the angler the option of fishing along our rugged coast or traveling out to the warm Mozambican current.
While bottom fishing, anglers will primarily target; Cape Salmon, Scotchman, Cape Stump nose, Sand Fish, Cob, and Black Mussel Cracker.
Also, on weather permitting days, trips to the Islands for Yellow Tail Tuna are a must. Anglers can expect good bottom fishing all year round.
Beach Riding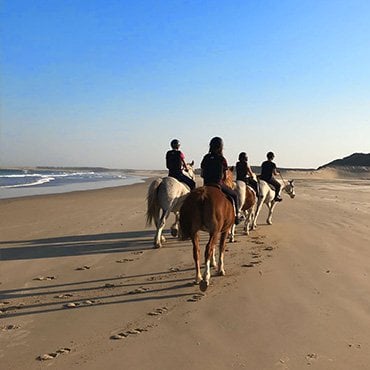 Horse riding trails on the beach, along the river, and through the dune forest. Three Sisters horse trails have horses suitable for all levels of experience, from complete beginners to experienced riders. We offer a safe and scenic dune forest trail with river and sea views for families with children. Experienced riders may canter in the surf while novices enjoy the stunning scenery at a safe walking pace!
Spa and Health Treatment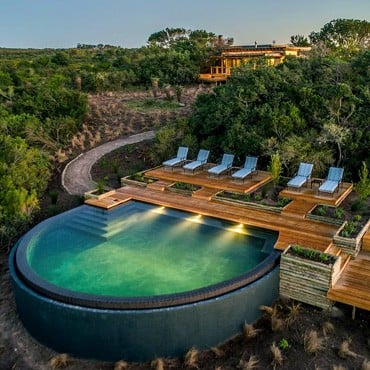 There are several Spas in and around Port Alfred. The perfect place to rest, relax and rejuvenate the body, mind, and soul.
Treat yourself to the luxury and pampering you deserve in beautiful, tranquil surroundings and indulge in a range of treatments and therapies, including various relaxing or energizing massages, facials, and the like.
Surfing
Shaka Surf School and surf camp is a family-owned business based in Port Alfred and run by multiple South African longboard champion surfers David Macgregor and his sons Cuan and Kye.
They are accredited by the International Surf Association (ISA).  No matter what age you are of if beginner or advanced surfer. The Shaka Surf School guys will get you stoked from the first minute. 
Sea Cruises
Please relax and enjoy the scenic views of our stunning coastline. Early mornings or late afternoons are a perfect time for our sea cruises as we watch the sunrise or set over the Indian Ocean, regular sightings of whales, dolphins, and marine birds.
For the young at heart and adrenalin junkies, this is a thrilling ride on our 8m Super duck. Head out the Kowie mouth and into the sea and ride the surf like never before.