Introducing Nick Bowker, your African Safari Hunting Outfitter
Complete your lifetime dream of Hunting Safari in Africa; it's far more affordable than you might think. So start researching your free-range African Hunting Safari here.
Fair Chase and Free Range African Hunting. We specialize in Plains Game hunting for First Time African Hunters as well as Repeat African Hunters.
Table of Contents
Nick Bowker Biography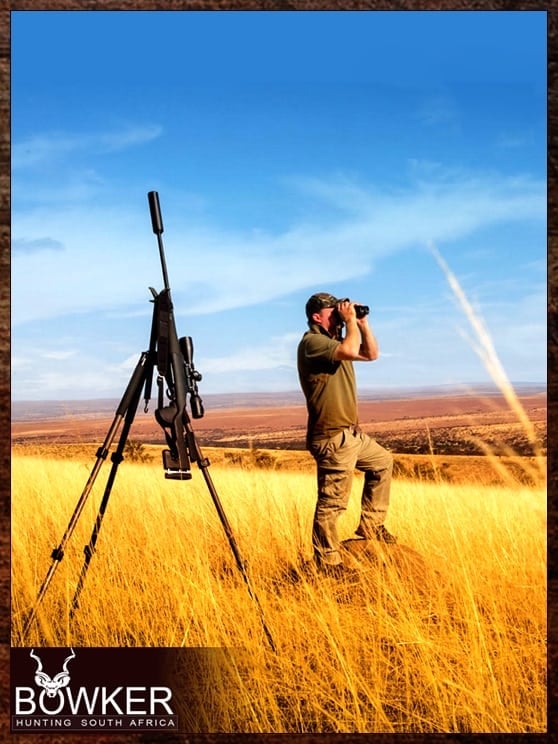 About Nick Bowker & African hunting
I was born and raised on a sheep farming operation near Bedford in the Eastern Cape of South Africa.
My love for the outdoors and Hunting started at an early age. I remember going hunting at age 6 with a .22, accompanied by Mlungisi.
I was at a Boarding School in Grahamstown and always looked forward to getting home for the holidays and hunting for Rock Hyrax and Monkeys, then later graduated to Hunting Springbuck. Some 40 years later, Mlungisi still hunts with me.
After completing my military service and attending college, I returned to the family business, and my passion for Hunting grew even more.
I am a registered outfitter (HC 53 / 2018 EC). Qualified as a Professional Hunter (PH 156/ 2018 EC) in 1996 and have been guiding ever since.
Dangerous Game License
Nick Bowker Hunting
In addition, I have a dangerous game license and dedicated hunter status in South Africa.
I started my own outfitting business over 12 years ago and have thoroughly enjoyed every minute of it. My specialty is reasonably priced free-range plains game hunting.
It has become a real family business with my wife, Elizabeth, doing the catering. She is enthusiastically helped by our twin daughters, Lauren and Jessica. They are also keen hunters and are following the family tradition.
My brother Rob Bowker assists with marketing and sales.
Benjamin Pringle assists with guiding many of my hunts.
I am a member of Safari Club International. Please take some time and listen to my podcast focus on Hunting.
Benjamin Pringle Biography
I am the 6th generation of a family ranch in the Mankazana valley Eastern Cape South Africa. It's still a working ranch with sheep, and cattle and abundant with free-range wildlife.

I have always enjoyed the outdoors, from hunting small games as a kid to casting a line for the big one today.
I have been a licensed hunting Guide since 2009. Before that, I did a few years of apprenticeships with Nick Bowker.
Clients always ask me what my favorite animal is to hunt and my standard answer is "all of them as they are a great challenge and all different but my favorite of all would be a bushbuck ram.
I look forward to meeting all of you great people at the hunting lodge and experiencing the best Hunting the eastern cape has to offer.
Rob Bowker Biography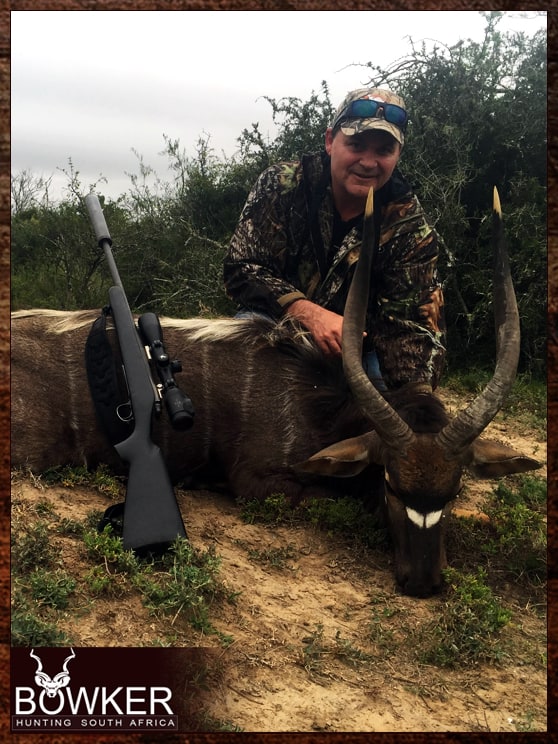 I am retired after working in Europe for 25 years as a finance professional. I grew up with Nick on our family ranch hunting as youngsters.
Every year for 25 years while in Europe, I always returned for a week hunting with Nick on our family ranch. I have a deep love for Hunting.
I maintain Nick's website and our various listings on different platforms. In addition, I keep a close eye on emails and answer incoming calls at strange hours.
My favorite animals to hunt are Kudu and Warthog.
Come and join us on an unforgettable African Hunting Safari in the Eastern Cape – South Africa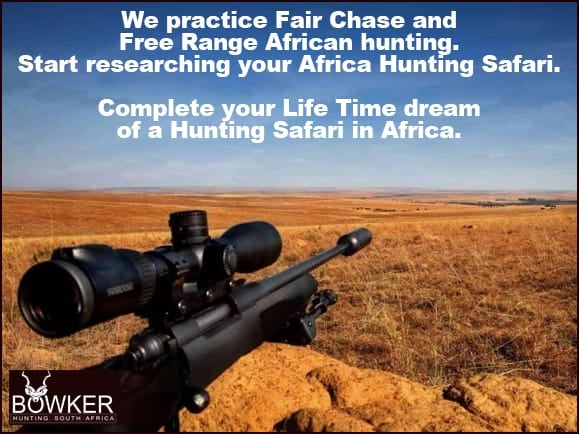 Bring your Kids
Children are welcome. I will be delighted to guide your children. Both my daughters pictured below started hunting from an early age.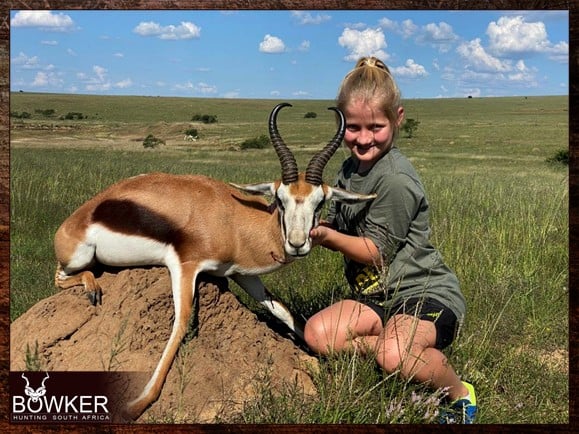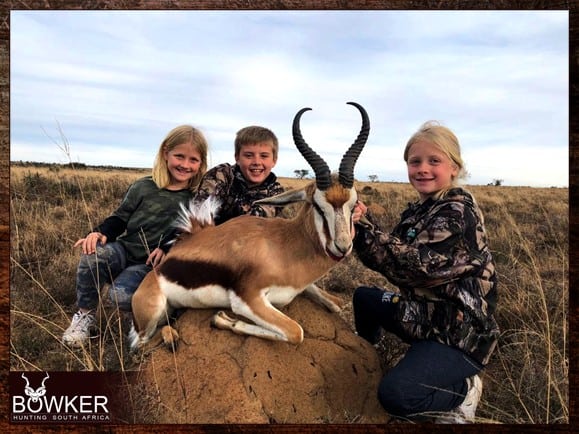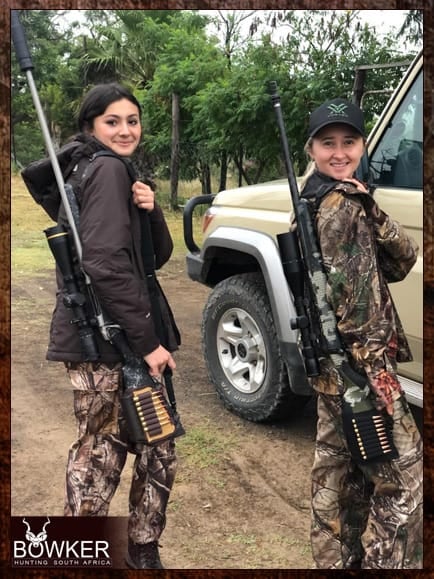 About Nick Bowker Hunting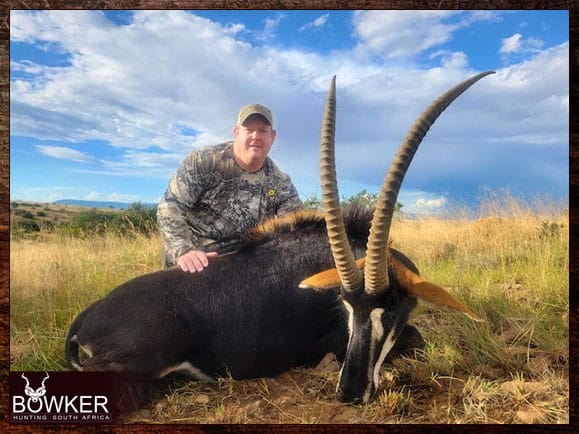 I am a small personalized African hunting outfitter in the Eastern Cape midlands in Bedford, South Africa, and have been a professional hunter and outfitter for 25 years.

My family has been living in the area for five generations, and hunting is in our blood.

I have been conducting fair chase hunting in the Bedford area my entire life and am familiar with every single corner of our hunting concessions.

Your Hunt will be a fair chase in a free-range African hunting environment, and I do not hunt behind high fences. However, for a few specific species, this will be required.

The Eastern Cape is one of the safest areas to hunt in Africa. I have never had a security incident of any kind throughout my career as a professional hunter.

I will be present for your entire Africa Hunting Safari and will be with you from when I pick you up to when I drop you off at the Port Elizabeth airport.

First Time African Hunters are welcome. I will be with you through every step of your journey on your African Safari.
Our African Hunting concessions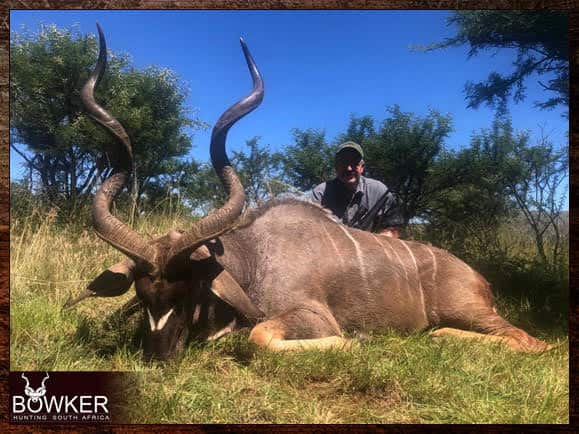 Your hunting concession extends throughout the Bedford area, and you will not see another hunter during your hunting trip.

The core hunting area is 150 thousand acres with access to the adjacent Bedford area, which is around 2 million acres.
The lodge is situated in the middle of my hunting concessions. As a result, there will be no need to drive long distances before you start hunting.

South Africa has become the premier hunting destination in the world. It offers first-world-class infrastructure and hospitality. The diversity of available trophies and the cost of a hunting Safari are not comparable anywhere else in the world.

Bedford area has a unique topography and offers over 30 species of African Big Game and Plains Game.

I offer unique, highly competitive Rates and Packages. My packages are All-Inclusive, and there are no hidden costs from when I pick you up to when I drop you off.
Come and do some Free Range African Hunting with Nick Bowker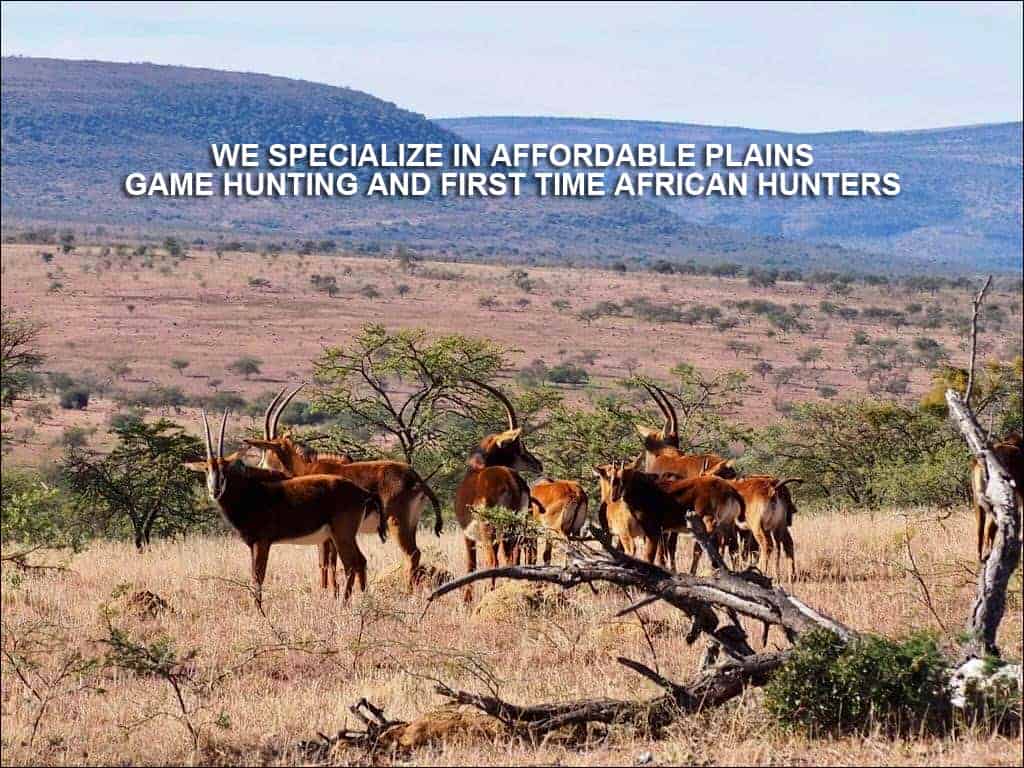 The cost of
T

rophy hunting in Africa
Structure your hunting in Africa to fit a budget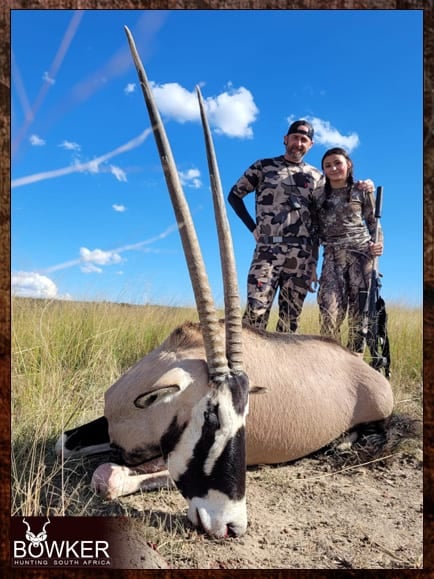 Alternative 1:

Clients select animals and pay the trophy fee for each animal. Also, there is a day rate irrespective of any trophy shot.
Alternative 2:

Hunters can select a package of animals offered by the outfitter at a fixed price, including the day fee, accommodation, and meals.
We ensure that your Taxidermy is of high quality, follow up on delivery, and ensure that your trophies are delivered safe and sound
Consider a starter package at a fixed price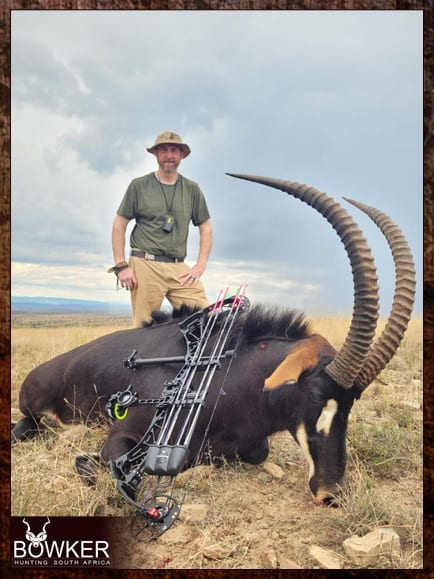 My first-time African hunter package starts at $4000 and includes seven trophies.
Cull animals that comprise mature animals that don't qualify as trophy animals can be added to trophy packages.
I offer Blesbok, Impala, Warthog, Springbok, and Mountain Reedbuck cull males at $250 each and females at $100 each.
Quality and Quantity of trophies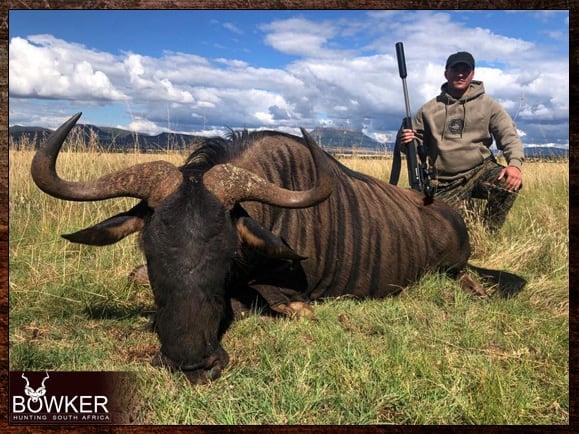 To keep high-quality Trophies, I limit the number of Africa hunting safari parties.

The sheer number of animals in our hunting areas will astound you.
You will see more animals in one day than you will see in 10 years in the United States.
For the cost of an elk hunt, you can shoot seven African Trophies. See what my clients say – Client Recommendations.


Rifles included free of charge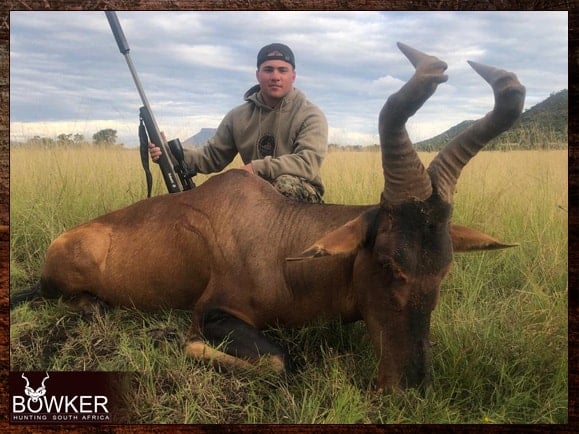 I have the latest 4×4 Hunting vehicles at my disposal, capable of any terrain.
Expert trackers who have hunted with me my whole life will help us with the guiding.

The cost and red tape of traveling with rifles have increased dramatically over the last few years. As a result, I now offer my rifles and ammunition for free use for all my clients.
I have available 300 Winchester Magnums fitted with suppressors. Mounted on rifles are Swarovski tactical scopes.
What does a typical day hunting in Africa involve?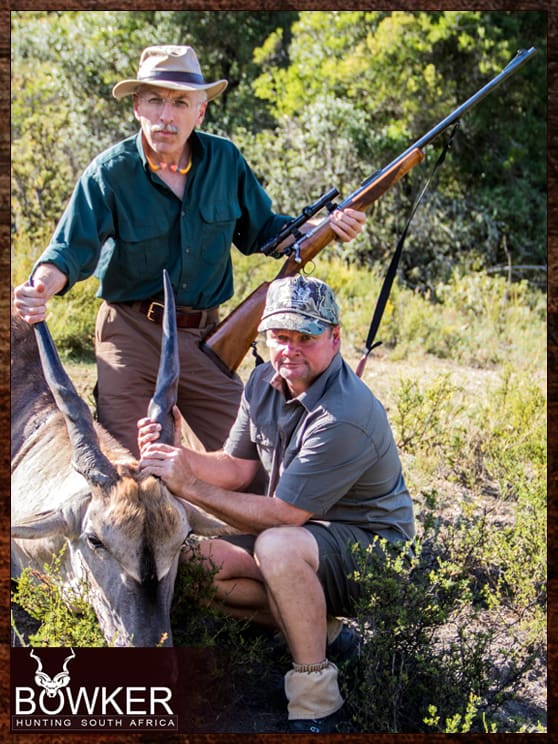 Up at dawn for a cup of coffee and a light snack.
Set off to our hunting area for the targeted species.
All hunting areas are within half an hour's drive.
Generally, we will target the brush-dwelling animals such as the spiral horns in the very early mornings and late evenings when they come out to graze.
We would target Plains Game animals during the day as they are easier to find.
Many hours are spent glassing animals before mounting a stalk on a selected quarry, so a high-quality pair of binoculars is a must for African hunting.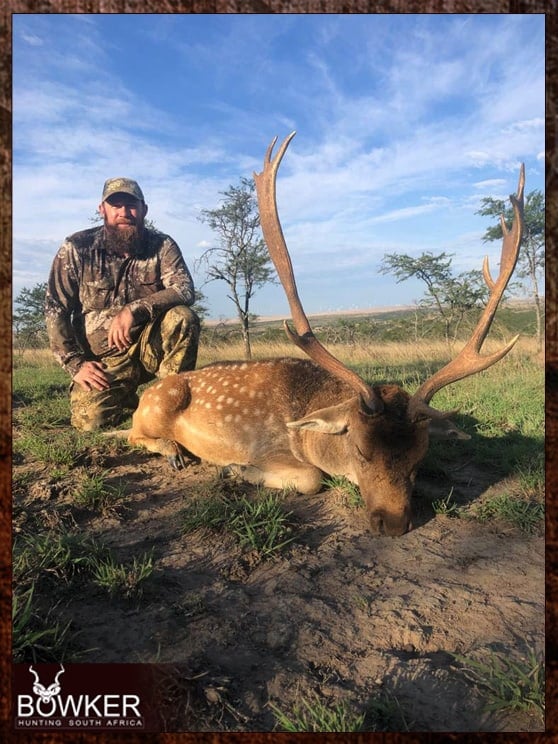 Typically, we find an elevated position and glass the surrounding valleys in search of a Trophy.
We would then set up a plan and begin our stalk.
Alternatively, we may try and set up an ambush.
Generally, return for a big brunch around 11h30.
Sometimes we will take packed lunch and be gone for the whole day.
Out again in the afternoon for more hunting.
Dinner around a fire, discussing the day, and making plans for the next day's hunting in Africa.
I offer Authentic African
Free Range Hunting
I conduct my Hunting in a Free Range environment with no high fences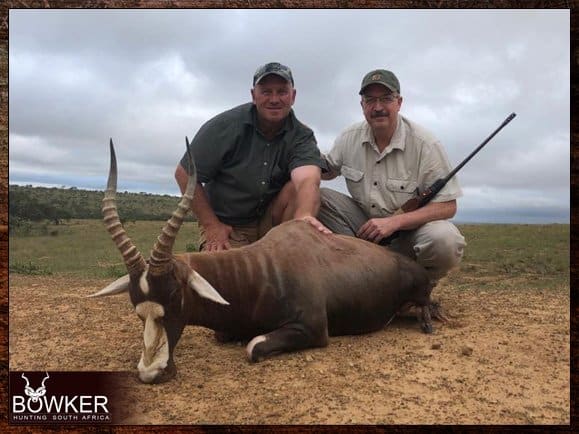 Hopewell Lodge sits on an escarpment (2200 feet above sea level) and has four unique biospheres within half an hour's drive.
This unique change in biospheres results in broad and diverse animal diversity.
To the south of the lodge is the deep valley bushveld. These deep, broad valleys with thick riverine bush are the home of the Eastern Cape Kudu and Bushbuck, Nyala, Warthog, and Bushpig.
The sides of the valleys and canyons make for great vantage points for glassing animals.
We spend a lot of time at these elevated points, glassing for trophies. At the plateau's start above the valley, bushveld lies savanna and woodlands in amongst small plateaus.
The savanna and woodlands are home to such species as Impala, Sable, Zebra, and Waterbuck. The savanna areas are ideal for spot and stalk hunting.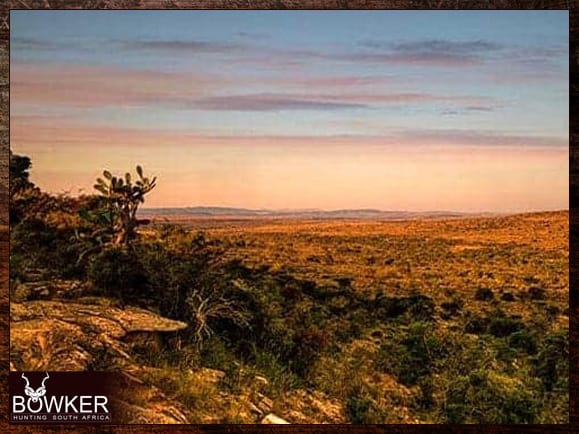 The unique topography provides one of the finest hunting areas in the world.
Nothing beats a day of free-range African Hunting and doing long stalks and trying to outwit your quarry.
Plateaus also make great vantage points for glassing and the star of many long stalks.
The savanna gradually gives way to the long rolling Bedford plains. These grass plains were once the place of vast animal migrations across the Eastern Cape.
These plains are where Springbok, Blesbok, and Black Wildebeest are to be found.
Consequently, the plains game often needs to be ambushed, and the endless anthills found on these plains make for the right hiding place.
The Plains give way to the Kaggaberg Mountain range. The Kaggaberg contains thick, steep valleys and box canyons. Here one finds Eland as well as Bushbuck and Kudu.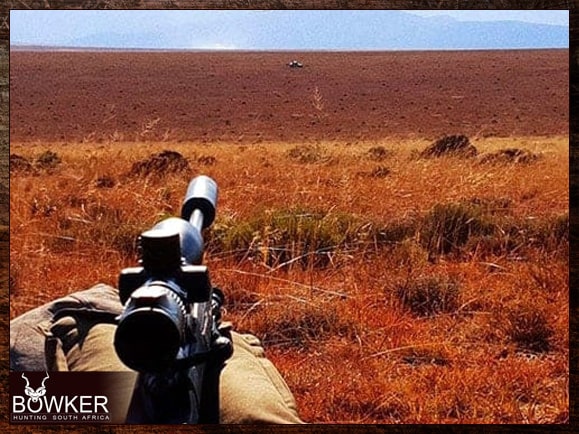 Free-Range Hunting in South Africa
Free Range African Hunting versus Free Roaming
A lot has been written about Free Range Hunting and Fair Chase Hunting. Free Range Hunting can be defined as kept in natural conditions, with freedom of movement. Also, no human-made barrier prevents the animal's movement.
Another concept is "Free-Roaming" in South Africa because the animals are born, bred, live, and die on the property.
We offer 100 percent fair chase hunting in South Africa.
Wilderness Hunting in Africa
If you are looking for a true wildness hunt, you will need to hunt in Mozambique, Zimbabwe, and Tanzania. In these areas, you will be hunting without any fences or human-made obstacles, such as public roads.
This remoteness comes at a cost with expensive day fees being mandatory as well as extra time and costs to get to these wilderness areas.
In particular, these costs come before you have even seen an animal. For many, the cost and time are prohibitive. As a result, South Africa has become the premier safari hunting destination in the world.
South African hunting areas that are not high fenced
These areas do not have high fences but rather four-foot barbed wire fences designed to stop sheep and cattle movement. Consequently, the vast majority of animals can move and roam at will. Certain animals will be held in check, such as Wildebeest.
These non-high fenced areas belong to the local farming community. Outfitters who hunt exclusively in these areas are often farmers and have dual income from farming and outfitting.
You will struggle to find a property in South Africa or Namibia with no fences somewhere along the line, be it a park border, a high fence on a neighboring property, or a barrier to public roads.
The majority of hunting in South Africa is conducted behind high fences. The size of the high-fenced areas varies greatly. High fencing is often a necessity for Outfitters from an economic perspective. For these typically larger high-fenced outfitters, outfitting is often their only source of income. Generally, the concept of free-roaming and fair chase hunting applies to high-fenced outfitters.
These larger high-fenced outfitters need to replenish trophies as a result of Hunting and genetics. As a result, South Africa is the most affordable hunting destination in the world. No-where else can you hunt so many species at a cost that was not dreamed about two or three decades ago.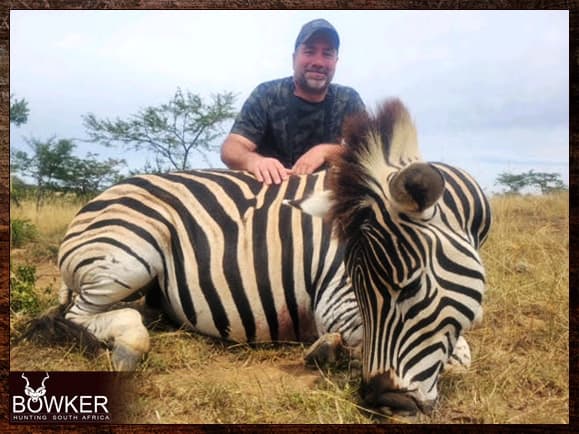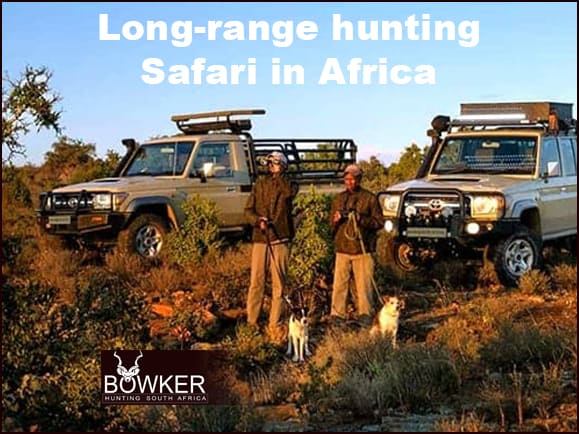 Long-Range Hunting in South Africa
I also offer long-range Hunting for enthusiasts. Bedford provides an ideal terrain for long-range Hunting with broad valleys and plains. I limit our distances to approximately 650 meters.
I target Impala, Springbok, Blesbok, Mountain Reedbuck, and Warthog for long-range Hunting. Our standard rate is $250 for males and $100 for females for non-trophy animals for the above target list.
Long-range Hunting provides the chance for hunters to truly test their shooting and hunting skills and the opportunity for making a significant amount of shots during a day of hunting.
There are few places in the world with similar diversity and such numbers of wild animals available at these prices.
I am also a long-range hunting enthusiast with significant experience with tactical scopes and handloading ammunition.
I have tactical and digital Swarovski scopes available for use.
Also, I offer driven hunts for the species mentioned above under the same conditions.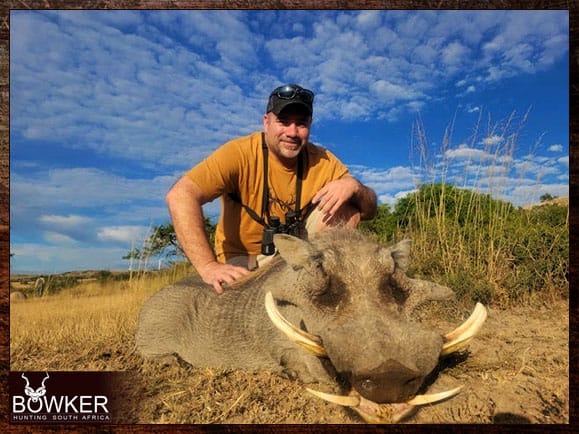 Travel, Climate, and Health
The area you will be hunting in South Africa is a safe and secure place to visit
Easy to Travel to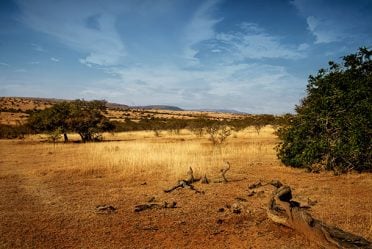 You will fly to Johannesburg or Cape Town and then take a connecting flight to Port Elizabeth.
Nick will meet you in Port Elizabeth at the Airport and drive you to the hunting lodge.
The hunting lodge is two hours from Port Elizabeth in the Bedford district.
Mild Climate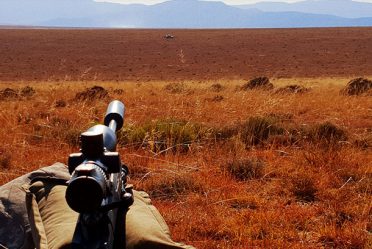 We hunt in South Africa all year round; however, the best months for hunting are March through September. Bedford has a mild climate and receives around 390 mm of rain annually, with most rain falling in January through April in thunderstorms.
The average midday temperatures range from 18 degrees in June to 28 degrees in January.
South Africa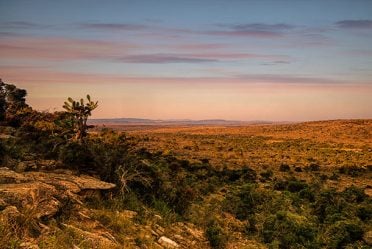 We hunt in a malaria-free area at all times! Also, we have private hospitals and medical care available in the surrounding area.
Bedford, your South African hunting destination in the Eastern Cape Province
Our lodges are about 20 minute drive from Bedford. See lodging options.
Bedford is a rural town in the center of the Eastern Cape province of South Africa. It was established in the mid-19th century.
It is located on the southern edge of the Winterberg mountain range.
A vibrant country district famous for our annual Garden Festival (second-to-last weekend in October), fun-loving farmers, and fabulous hospitality.
Bedford is waiting to welcome you.
The historic village is tucked up against the Kaggaberg mountain (part of the Winterberg range). Our farms stretch across extensive grasslands and up into the dramatic Mankazana, Cowie, and Baviaans River valleys. Angoras, merinos, beef cattle, goats, and game are to be seen all over.
Route from Port Elizabeth to Bedford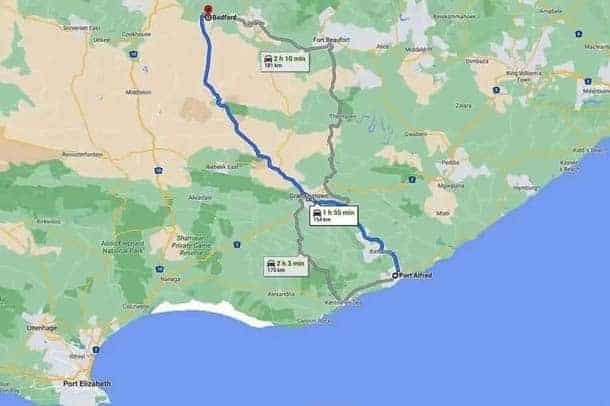 What is Free-Range Hunting, and is Free-Range Hunting available in South Africa?
Free-Range Hunting can be defined as being kept in natural conditions, with freedom of movement. Free-Range South African hunting areas have four-foot barbed wire fences designed to stop sheep and cattle movement but not wild animals.