Hunting with no fences or low fenced African hunting (meant to control sheep, not the wild game) was a priority. Nick's hunting areas fit the bill. The number and variety of animals blew us away.
Low-Fenced African Hunting with Nick Bowker
This was my first African hunt, but I've hunted with outfitters in the Midwest and the Western US. The outbreak of Covid 19 made an extraordinary hunting trip.
The world seemed to turn on its head during the seven days we were in South Africa. Despite the fact COVID-19 was hanging over most of the hunt, I couldn't be happier with how it all went.
The quick progressions of world events related to Covid-19 made the hunt a bit more surreal. We were not looking at our phones on purpose, but that didn't last once we heard about the travel bans. Nick had clients start canceling because they couldn't get to SA or faced a quarantine once they got home.
It was a stressful time for both Nick and Benjamin, and while we could tell it was causing problems. They in no way let it impact our trip. We all did our best to have a great hunt despite the world seemingly grinding toward a halt.
Our flight out of Johannesburg had 60+ open seats two days before we left. But it was loaded to the gills as people changed plans to get home once SA travel bans were announced. We ended up leaving on schedule two days before South Africa essentially closed its "airline" borders to foreign travelers.
Planning and Logistics for our Low fenced African Hunting Trip
This trip was planned relatively last minute by my Fiancé as a 50th birthday present.
She contacted a few Outfitters. Nick responded quickly and indicated he had a recent cancellation the week we were looking at.
We tossed a few hunting ideas around before settling on a package. The package included a Nyala, Impala, Kudu, Gemsbok, and Warthog. since my fiancé wanted to be along on the hunts, we added a daily rate and Warthog for her.
We contacted Nick initially through BookYourHunt.com and used that as our primary communication source. We switched to using WhatsApp the day before our arrival.
Nick did a great job of keeping in touch and updated. He is the one that pointed out that South African airlines were having trouble. And suggested we might want to rebook British Airways for the flight from JHB to Port Elizabeth.
Arrival
Nick was standing outside the arrival doors when we got there, helped us with our bags, and drove us to the lodge.
It was a tremendous 2-hour drive, although it rained most of the way there. We could ask questions, understand the daily routine, and get acquainted.
Nick was easy to talk to and didn't seem the least bothered by getting peppered with questions by enthusiastic rookies!
Upon arrival, we met Benjamin, a PH that works with Nick.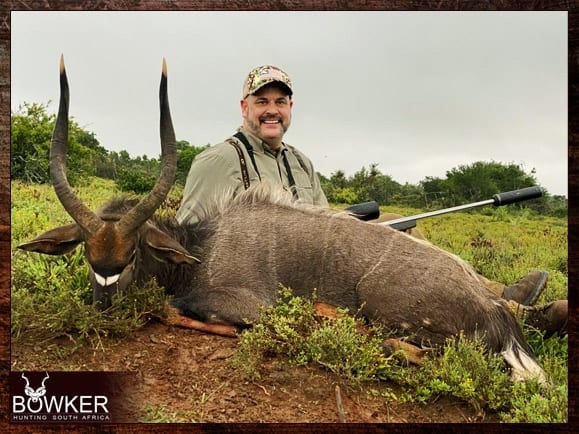 Facilities
Nick's clients stay at his home, a sprawling group of separate and connected buildings. These include the main house, guest rooms, a cabin for 1-2 guests, a bar, a braai/dinner area—as well as work sheds, garages, staff quarters, etc.
We stayed in a separate cabin, which was amazing – small, rustic, modern at the same time, and extremely comfortable. The bed was amazingly comfortable; there was a great walk-in shower, a huge tub, a bathroom, and a sink.
The house seems like an older farm/ranch house, with additions to accommodate larger hunting parties.
Nick has WiFi that runs on power when it is on. (it sounds like consistent power in many parts of SA is tough to come by). When the power is off, Nick kicks on the generator.
The inconsistent power didn't impact us at all. Nick made it relatively seamless with the generator. We loved the house and couldn't have felt more comfortable.
We weren't there to stay connected – we wanted the opposite. We were doing well with that until the news of COVID's expansion started making it necessary for us to connect.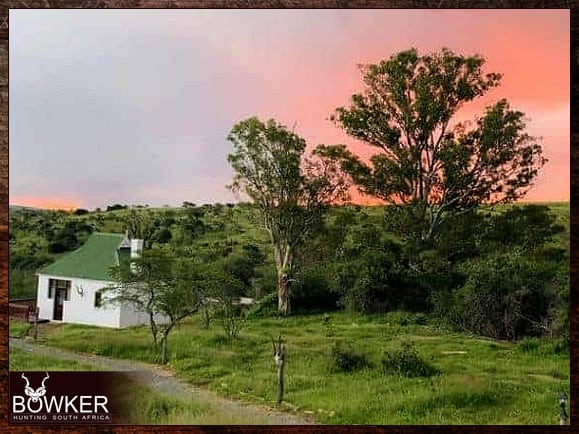 Staff
Nick has a great staff. The people preparing breakfast and cleaning the rooms were on top of it.
Our room was cleaned each time we left (in the morning and again in the afternoon), and our laundry was done daily. Nick's hunting staff were also great.
Cheerful and helpful, they helped make each hunt better. Benjamin is also an excellent PH (more on that later) – easy to talk to, friendly, and always looking for ways to improve your trip.
He often said while doing something for you, "Don't worry about it; I'll do it. You're on holiday!"
Food and Routine
The food was incredible. There were always baked goods available, and we usually ate a muffin before heading out in the morning. We typically were back by 11 or 12 for brunch, which was also excellent.
Over the six days of hunting, we had kudu sausage, eggs, bacon, mushrooms, tomatoes, hamburgers, fries, pork, and probably five other things. Dinners were made by a woman Nick has hired only to handle dinners, and she crushes them.
Every dinner consisted of appetizers, a main dish often cooked by Nick or Benjamin over the Braai, and dessert.
We ate lots of wild game, beef, and lamb, and there was always at least one perfect side dish, often South African favorites.
We drank beer and wine each night (Nick asked what we liked to drink before arriving) and had a blast at dinner time by the fire.
Rifles
We opted to use Nick's rifles rather than bring our own. A great choice in light of all the airline issues and COVID-19. As a result, we could also travel light (only carry-ons)
We shot from a bench and sticks. After I shot, I went out with Benjamin to look around/hunt while my fiancé stayed back to ensure she was comfortable shooting from the sticks.
We had gone shooting before, but this allowed her to get comfortable with Nick's guns and for him to get comfortable with her shooting.
After that morning, we hunted together during our low-fenced African hunting safari.
Low-fenced African Hunting Area
Nick hunts on his land, his family's land, and other extensive tracts with hunting rights. There is a great variety of land, and we didn't see all of it by any means.
Nick has a big sheep operation and runs the hunting on his property, so there are some low fences for the sheep.
Hunting with no fences or low-fenced African hunting (meant to control sheep, not the wild game) was a priority.
Nick's low-fenced African hunting areas fit the bill. The number and variety of animals blew us away.
Selective Hunting
This being my first time hunting in Africa, I was excited. Rather than discuss each hunt, I wanted to pull out some things that stood out to me. Nick and Benjamin were very selective.
Everyone is different, but for me, the hunt is essential. I like to shoot nice trophies, but not at the expense of a good hunt. I prefer to shoot an average trophy on a great hunt instead of a great trophy on an average hunt.
That said, Benjamin and Nick didn't want to compromise on either. The Nyala hunt was in an area that was pretty easy to get to (the first day). We worked hard for all the other trophies in the low-fenced African hunting area.
Nick and Benjamin did their best to ensure we got the best of both worlds.
Low-Fenced African Impala Hunt
Nick and Benjamin worked their butts off, ensuring we got the animals we came for. My impala hunt was terrific.
Benjamin kept getting us close to a large ram, but something always messed it up—hogs busting out of the bush, an unforeseen Mountain Reedbuck, and skittish Springbok.
We chased it back and forth across the valley. We could get in a position for a great shot, and we had no idea where we were.
Benjamin did a great job keeping us on the ram; it was a fantastic hunt.
Kudu Hunt
I made a shot that wasn't ideal on my kudu hunt. The animal wasn't going anywhere, but it needed another shot. Wound up; I pulled the trigger for the second shot. There was that loud "click" that only comes from not having reloaded.
Benjamin recognized I wasn't squeezing the trigger but yanking it back in excitement. He perfectly said, "Squeeze the trigger…" – just what I needed at that moment, but it stayed with me for the rest of the trip.
Warthog Hunt
We spent the last couple of days chasing Warthogs. It sounded like they were generally shot while pursuing something else; that was not our situation.
Given the vast amount of rain (drought-ending) falling in the area we were hunting, the hogs didn't need to move much to get food and water.
We were early, and the boars weren't pushing the sows. This made it so that getting a big Warthog was the most challenging part of the hunt.
They did not give up, despite the weather not wanting to cooperate. We pushed hard for hogs, resulting in a gnarly old boy for my fiancé and an excellent pig for me.
Nick and Benjamin did a great job with her – they put her in a great position, and she made a great shot (I think she is better off the sticks than I am)
Final Hunt on our low-fenced African Hunting Safari
The last hunt (for my hog) put Nick and Benjamin's hunting skills on display – we saw good pigs from at least a mile away and then started the hunt.
Given the weather (some rain, but cool and overcast) and that it was the last day of our hunt, the pursuit of this boar seemed to be the last pig chase we were going to get.
We had a strong wind, which helped a ton, but we knew it would be tricky given the distance we had to travel. We ran into duiker, rabbits, mountain reedbuck, and impala.
Each time I thought we were screwed, but Nick and Benjamin played it perfectly, and we could thread the needle and catch up to the hogs.
After the boar was down, we all started laughing. None of us could believe we made it through all those eyes, ears, and noses that seemed to threaten the hunt constantly.
We laughed a ton. Nick and Benjamin are a lot of fun – by the end of the trip, it felt like hunting with old friends. That only adds to the low-fenced African hunting experience and memories and is precisely what I'm looking for in this trip – great hosts, smart and talented guides, and good people.
Business Wrap-Up and Departure
After the hog hunt and before dinner last night, Nick and I wrapped up and settled the bill. This was a painless process, and he walked me through the account – absolutely no surprises (other than my bank not authorizing purchases in SA like they said they did on the phone and email). But we got that sorted out, and Nick made it easy.
The next day our flight out of Port Elizabeth didn't leave until 3:30 pm, so Nick offered to drive us through Addo elephant park on our way to the airport.
He was a fantastic Park guide as well – we had a blast, and we're very thankful for his generosity with his time—a great way to end the trip. Since we left, Nick has texted to make sure we made it back alright, check how we deal with COVID, and keep me updated on taxidermy stuff.
Bottom Line
I'm already trying to figure out when I can get back and which friends I can talk into joining me. Nick Bowker receives my highest recommendation – for the reasons I've mentioned (and probably 50 other smaller reasons I haven't), he is better than any Outfitter I've ever used.
I'm an adventurous person and love meeting new people – however, because this trip was made so incredible by Nick and his PH Benjamin, I doubt I'll ever hunt with anyone else in South Africa. We had a great hunt with great people. What else can you ask for?